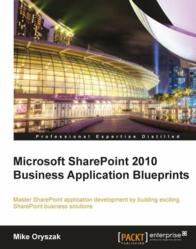 Each chapter represents a new business solution that builds on the overall platform to deliver more complex solutions and more advanced techniques.
Birmingham, United Kingdom (PRWEB) June 28, 2012
Packt is pleased to announce the Microsoft SharePoint 2010 Business Application Blueprints, a new book and ebook aimed at SharePoint developers looking to extend the SharePoint platform, and build a range of SharePoint solutions. This handbook is available now in print, eBook, Kindle and select library formats. The print book comes in at over 282 pages and is competitively priced at $40.49 , whilst the e-book and Kindle versions are available for $22.94.
About the Author:
Mike Oryszak is a Microsoft Gold-Certified Partner, who is involved with the design and implementation of business solutions that leverage SharePoint as a platform. With his active involvement in the SharePoint community as the leader of the Triangle SharePoint User Group, he has also been recognized for his community involvement as a three time Microsoft Valuable Professional (MVP) for SharePoint Server.
Microsoft SharePoint is a web application platform developed by Microsoft, which is useful for most organizations, backed by a common technical infrastructure. SharePoint is used to provide intranet portals, documnets & file management, collaboration, social networks, extranets, websites, enterprise search and business intelligence.
Microsoft SharePoint 2010 Business Application Blueprints enables users to manage their out of office dates and automate task assignments to a delegated resource. It highlights details on building SharePoint projects such as an engaging community site, inclusive of custom features to enhance collaboration providing an information sharing system and a Project Management Main Site to aggregate the key metrics and status information previously created.
Written in an easy-to-understand style, this book will help the reader focus on an effective intranet site that maximizes the site's ability of the organization to aggregate content and is highly effective at communicating important messages. Through this book, readers will also learn to build a project site template that supports project initiatives, track Issues, tasks, and contacts.
Some of the chapters emphasized in this book are:
Chapter 1: Building an Effective Intranet Site
Chapter 2: Building an Out of Office Delegation Solution
Chapter 3: Building an Enterprise Content Management Solution
Chapter 4: Building an Engaging Community Site
Chapter 5: Building a Site Request and Provisioning System
Chapter 6: Building a Project Site Template
l
Chapter 7: Building a Project Management Main Site
Chapter 8: Building a Task Rollup solution
Chapter 9: Building a Site Directory with SharePoint Search
Style/Approach
The hands-on example solutions in this book are based on fictitious business development briefs, and they illustrate practical ways of using SharePoint in various business scenarios. A chapter is dedicated to each example SharePoint solution covering step-by-step instructions for building the SharePoint solutions, aided by the extensive use of screenshots.
Packt Publishing has also released other Microsoft SharePoint titles:
Microsoft SharePoint for Business Executives: Q&A Handbook (published)
Microsoft SharePoint 2010 Developer's Compendium: The Best of Packt for Extending SharePoint (published)
Microsoft SharePoint 2010 development cookbook (published)
All Microsoft SharePoint book are Published by Packt Enterprise. Packt Enterprise is a publishing division of Packt Publishing designed to serve the information needs of IT Professionals in the Enterprise space. Packt Enterprise also publishes on Microsoft, IBM, Oracle, Citrix, Java, Amazon, Google and SAP technologies.