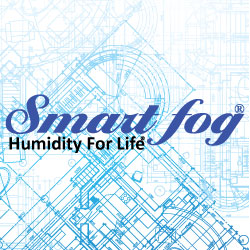 There is no escape from Smart Fog PET commercial humidifiers," says Goldstein. "Field testing conducted by mechanical engineers in many industries have confirmed a complete uniform distribution of humidity in a matter of seconds."
Reno, NV (PRWEB) June 28, 2012
Smart Fog Inc a leader in humidification technology introduced this week the Patented Enforcement Technology (PET). The ES100 series commercial humidifiers are the first in the world to incorporate the PET revolutionary innovation and are available in an open space wall mount, HVAC in-duct and mobile disinfection cart configurations.
"PET's timing and uniformity, provides the paramount link between achieving precisely controlled humidity and suspending a spray of fine water droplets into the air, hoping for the best. The current environmental conditions world-wide and everchanging climate demands commercial humidifiers that can achieve nonfluctuating humidity in any condition" explains Ido Goldstein, director at Smart Fog.
The PET provides complete enforcement of the water into the air in order to achieve 100% water evaporation. Each droplet generated by Smart Fog PET is engineered to be spaced equally and is timed to evaporate on contact with the air flow. The precisely timed evaporation of the water droplets into the air aids in the uniform distribution of the humidity throughout the targeted area.
"There is no escape from Smart Fog PET commercial humidifiers," says Goldstein. "Field tests conducted by mechanical engineers in many industries have confirmed a complete uniform distribution of humidity in a matter of seconds."
In the produce industry, field tests conducted on packed ready to ship produce with disinfectant have achieved a complete disinfection with no wetting. The cardboard boxes have not been affected by the treatment, but the treatment has penetrated into every surface.
Clean room humidification testing has confirmed an equal graph of the targeted relative humidity with no fluctuation. In Electrostatic discharge (ESD) control and other manufacturing humidification, there is a critical need to have the exact amount of humidity in the air at all times, not too little or too much. Smart Fog PET has demonstrated with a perfectly equal distribution throughout the targeted area. With Smart Fog PET when the relative humidity target been set to 40%, the resulting relative humidity will always be 40% 24 hours and seven days a week in any condition without any wet spots and no fluctuation.
For HVAC duct installation, the main issue faced was condensation, pooling and wetting. With Smart Fog PET accurate and nonwetting in-duct humidification, maintenance made easy. Without any drains, droplet screens and filters, it eliminates mold growth by eliminating free water. In addition, no free water means no drains and 100% water conservation.
"We also have the shortest lead time in the industry," says Goldstein. "Our clients are up and running in less than a week."
About Smart Fog
Smart Fog Inc. is the recognized world leader in the industrial and commercial humidification systems. For over 30 years, Smart Fog has provided superior service to customers world-wide, and the corporate commitment to excellence has earned the reputation as the best in the industry. All Smart Fog commercial humidifiers manufactured in the U.S.A. using the highest grade raw materials.
For more information, visit: http://www.smartfog.com.