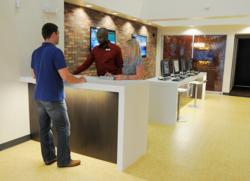 "Customer expectations are based on using new technologies and being able to interact in a variety of ways. They expect innovation, and with Bankwerx, we deliver." - Richard A. Elko, Conestoga Bank president and CEO
Philadelphia, PA (PRWEB) June 28, 2012
Conestoga Bank has revolutionized banking with the opening of Bankwerx at 1632 Walnut Street, Philadelphia. This new banking experience is the first of its kind in the Philadelphia region.
"What customers expect from banking has changed rapidly," said Richard A. Elko, Conestoga Bank president and CEO. "Their expectations are based on using new technologies and being able to interact in a variety of ways. They expect innovation, and with Bankwerx, we deliver."
The existing Walnut Street branch has been remodeled into a sleek, open design, eliminating the traditional teller counter but not the tellers. "The Bankwerx experience gives customers the choice of banking with their mobile phones, laptops, tablets, or in person with a personal teller or our branch hosts," said Mr. Elko. "While many customers prefer to handle their own transactions, our branch hosts are available to answer questions, assist with transactions or loan applications as needed, or demonstrate how to use the various technologies to the customer's advantage."
Customers will appreciate the speed and privacy of the personal teller interactions as part of the technology provided by Ugenius. The personal teller experience brings customer service to a new and higher level than before. With extended hours, both students and working professionals will appreciate personal service after traditional banking hours. The personal tellers complete all routine transactions in a high-tech setting, providing the best of both worlds of banking.
The new Bankwerx branch features Personal Teller Machines from video banking provider uGenius. These innovative kiosks are situated in Bankwerx's lobby and allow customers to complete transactions when it's convenient for them. Through real-time video technology, customers can interact with an actual teller to complete transactions, ranging from cash and check deposits to transfers, payments, and check printing.
In addition to technology, Bankwerx from Conestoga Bank offers products that incorporate the best of technology and features the most popular services customers demand. The free checking account with no minimum balance earns rewards. Free mobile banking, text banking, online banking, and bill pay are included. With no minimum deposit and an instant issue debit card, customers have what they need immediately. With the ability to check your balance with text banking and online banking and the ability to snap a picture of your check and make a deposit—all available 24/7—banking no longer needs to take place in the branch. When it does, Bankwerx from Conestoga Bank offers extended hours from 7 am to 7 pm and Saturday and Sunday from 10 am to 4 pm. It's all part of the bank's goal of providing all the tools customers need to make the most of their banking relationship. "Every customer has a different idea of how they'd like to bank, so with the Bankwerx experience, we put the choice of how, where, and when to do their banking in our customers' hands."
When a customer is interested in other banking services, including leasing, SBA, or mortgages, he has immediate access to experts using Ugenius SmartOffice technology. "People want answers at their convenience, and the SmartOffice concept allows us to deliver that level of service," noted Elko.
Bankwerx is also utilizing uGenius' SmartOFFICE to streamline the process for initiating new accounts, closing loans, investments and mortgages—all through real-time video. The traditional financial institution model requires the customer to come into a branch, schedule an appointment, fill out an application, and then return to sign formal documents. Now Bankwerx's customers can complete this entire process at their convenience by connecting directly with a product specialist.
"At Bankwerx from Conestoga Bank, we use technology to make things easier for our customers by not only providing the newest technology to manage your money, but also taking the time to show you how to use it," said Mr. Elko.
Conestoga Bank is a wholly-owned subsidiary of Conestoga Bancorp headquartered in Chester Springs, Pa. Conestoga Bank is a full-service financial institution, with 16 locations in Center City and South Philadelphia, Bucks, Chester, Delaware, Montgomery and Lehigh counties, specializing in commercial loans, Small Business Administration, and leasing, along with convenient personal checking and savings products.