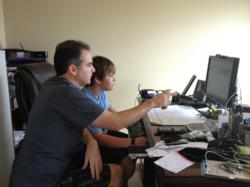 He has always had an entrepreneurial spirit and a knack for computers.
Tampa, FL (PRWEB) June 28, 2012
12 year old Dylan Jordan was trying to find some summer work to earn extra money. After distributing flyers around his neighborhood offering various services like yard work and washing cars yielded no response, he asked his dad for some advice.
His father, Chris Jordan, had just published a tutorial on his small business blog a few weeks earlier showing others How To Make A Website From Scratch and how easy it was and suggested that he give it a shot. "He has always had an entrepreneurial spirit and a knack for computers. We had just read an article a few days earlier about a 10 year old girl that had started a blog about her school lunches and it became wildly popular with hundreds of thousands of visitors. There are many similar stories of young people creating websites that later became very lucrative. I thought that even if it wasn't successful, he would learn a great skill and could just have fun with it if he wanted to continue with it."
Chris owns an internet marketing company where he designs websites for small local businesses and optimizes them for search engines to help their potential local customers find them. He also owns a few informational websites that he monetizes with advertising and affiliate products and services. "My wife and I have owned our own business for about 20 years and he started asking us around age 8 How To Become A Business Owner. "
"I recently had a local business contact me about designing a website and optimizing it for them. They were in the wedding photography business and there were a lot of local customers searching for their services. However they had to pass on the project due to budgetary constraints."
"So after some brainstorming we thought, let's build a website for this type of business and maybe he or his competitors might be interested in purchasing it or perhaps some advertising space. It's a new concept but we thought they will probably see more value in it if it is already created, ranking well in the search engines and generating inquiries. We have teamed up on the project and hope to finish it in about a week or two. He is very excited about it and already has plans to create a travel website once we finish this one."
"I always thought that he considered what I do pretty boring. In fact, when his school had a career day a few months back, he didn't want me to speak because he thought I would put his classmates to sleep. I guess he just needed some incentive."