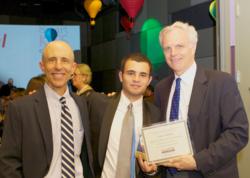 Children with learning disabilities are among our brightest and most gifted.
Westport, CT (PRWEB) June 29, 2012
Smart Kids with Learning Disabilities' tenth annual benefit event was held at the Stepping Stones Museum for Children in Norwalk, CT on June 8th. The gala celebrated the message that for children with learning disabilities, the sky is indeed the limit. Following a cocktail reception and buffet dinner, almost 200 guests looked on as David Neeleman of New Canaan, CT, founder and CEO of Azul Brazilian Airlines (and founder of JetBlue Airways) hosted a ceremony naming the organization's annual Youth Achievement Awards in honor of the late Dr. Fred Epstein, the renowned pediatric neurosurgeon who credited his significant learning disabilities as a major factor in his success.
In addition to gaining worldwide fame for the techniques he developed to save the lives of children with brain tumors, Dr. Epstein also became an inspiration for children who struggled with learning disabilities. He was the speaker at Smart Kids with Learning Disabilities' first program in January 2001, telling a standing-room-only audience, "What I say to children with learning disabilities is: We're like anybody else in terms of intelligence. But we're wired differently. If we were in the majority, we'd be trying to figure out how to teach them!"
Dr. Epstein's daughter Ilana Grady, and his widow, Mrs. Kathy Epstein, both of Greenwich, assisted Dr. Devon MacEachron, Award Committee Chair in presenting the 2012 Fred J. Epstein Youth Achievement Award to Clinton Berry, 18, of Owensboro, KY. Overcoming his reading and writing disabilities, Berry has been honored with numerous academic and public service awards, and designed and built a 2,500-foot rehabilitation center for bald eagles in Owensboro's Yellow Creek Park–igniting his interest in engineering, which he will study at Murray State University next fall.
The 2012 Special Recognition Award was given to Elliott Sabbagh, 18, of Ann Arbor, MI who despite struggling with ADHD became an accomplished classical and improvisational violinist, frequently co-hosts an Ann Arbor/Detroit hip-hop radio show, and performs as a DJ and host at major concerts.
Honorable Mention Awards were presented to Lauren Birbarie, 17, of Branford, CT; Brian Meersma, 15, of Princeton Junction, NJ; and Cameron Shockley-Okeke, 11, of Norwalk, CT.
The live auction included a naming opportunity for Honorary Chairman Henry Winkler's 3rd Ghost Buddy title; vacations at the Durango Mountain Resort in Colorado, Vermont's Timber Creek, and a weekend getaway in New York City; Owner's Suite tickets for a Yankees game; and an intimate chamber music concert and dinner for 10 to be held in a private home. The fine wines featured in the wine auction included two cases of vintage Dom Perignon, donated by Moet Hennessy USA.
The major sponsor for the 12th-anniversary benefitwas Lindamood-Bell Learning Processes of Darien, CT. Additional sponsors included The Prospect School of Danbury, CT, and Literacy How of North Haven, CT. The event raised almost $50,000 in addition to $30,000 for the Fred J. Epstein Youth Achievement Award Endowment Fund.
Smart Kids with Learning Disabilities, Inc. is a Connecticut-based non-profit organization dedicated to providing information, support, and encouragement to families of children with learning disabilities and attention-deficit disorders, while also educating the public about these children's significant gifts and talents. Its comprehensive website at http://www.SmartKidswithLD.org, free e-newsletter and educational programs promote parents' critically important role as advocates for their children. Henry Winkler, the award-winning actor, director and producer serves as the organization's Honorary Chairman.