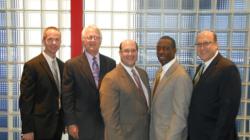 "The solution must protect at the mobile device. Encryptics offers a mobile encryption solution for iPhones and iPads," said Encryptics Chief Operations Officer, Brandon Hart.
Dallas, TX (PRWEB) June 28, 2012
Encryptics, a data protection company that secures digital content for the lifecycle of a document, hosted an Executive Roundtable Briefing for attendees of the State Bar of Texas Annual Meeting on Friday, June 15, 2012 at the George R. Brown Convention Center in Houston, Texas. Almost 70 attorneys attended the Roundtable.
The Roundtable discussion was titled "Is Your Mobile Device a Ticking Time Bomb?" and focused on the legal profession's obligation to maintain client privacy by securing mobile devices used to send sensitive data.
Dr. Mark Sirkin, Principal, Sirkin Advisors, currently a faculty member at New York University and author of "The Secret Life of Corporations," moderated the three-member panel, which included Brandon Hart, Chief Operations Officer, Encryptics; Ike Vanden Eykel, Chief Executive Officer, KoonsFuller, and former President of the Dallas Bar Association; and Bill Jones, Principal, The Jones Firm, and former General Counsel to the Office of the Governor of the State of Texas, Governor Rick Perry.
Asked to address why protection of data on a digital device is such an important topic now, Bill Jones responded, "What was reasonable yesterday won't be acceptable tomorrow. It was enough to lock up documents in 1983 when I began practicing law, now you must encrypt mobile devices. Make sure you do your homework. Technology must be updated constantly. Everyone is in a rush to keep up with technology, but we must take the time to investigate options, and to consider consequences if we don't."
Ike Vanden Eykel said, "Standards for securing a client's digital data are going to be much higher in a month. Even if we don't think data is sensitive, our clients do. At our firm we have the ability to control all information that we create, who receives it, and what they can do with it. You must have encryption to have that control. You can have a virtual IT department with today's technology." KoonsFuller is an Encryptics client.
Brandon Hart added, "The solution must protect at the mobile device. Encryptics offers a mobile encryption solution for iPhones and iPads. This gives the creator of the data the power to control the information, and protect your clients' privacy. As more and more data is moved onto the cloud, the only way to actually secure data is to secure it locally at the source. Ultimately, the author is responsible for the protection of the data created, sent and received."
Bill Jones stated, "It's potential malpractice for lawyers if any client information is breached." Ike Vanden Eykel agreed, "You must protect the data at the source, and be sure you're keeping pace with changing technology."
"Hacking is now a profession," said Brandon Hart. "Knowing standards and understanding standards are two different things. Get educated."
Dr. Mark Sirkin summed up the discussion by saying, "Digital data is only as safe, as secure, as the person you're communicating with. In the legal profession, you're not only dealing with your client, but your opponent, and other businesses associated with them. To be really confident in cyber security, all digital data must be encrypted at the source."
To learn more, visit http://www.encryptics.com, call 877.503.4781, or email support(at)encryptics(dot)com