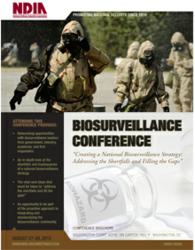 Laurie Garrett is the only person to win the three "P"s of journalism -- the Pulitzer, the Polk and the Peabody.
Arlington, VA (PRWEB) June 28, 2012
National Defense Industrial Association (NDIA) is excited to announce that it has confirmed Ms. Laurie Garrett as the keynote speaker at the 2012 Biosurveillance Conference, scheduled for August 27-28 at the Washington Court Hotel on Capitol Hill.
In addition to Garrett, the upcoming conference will also feature other distinguished speakers and subject matter experts who will address the current concerns with our nation's bio-preparedness in accordance with the theme: "Creating a National Biosurveillance Strategy: Addressing the Shortfalls and Filling the Gaps."
Laurie Garrett, the only person to win the three "P"s of journalism -- the Pulitzer, the Polk and the Peabody -- will showcase her expertise at the Biosurveillance Conference, touching on the biological threats and dangers we currently face, as well as exploring the necessary steps to increase our preparedness for and responsiveness to these threats.
"Laurie is a powerful speaker," says Richard Stouder, Director, Technology Development and Deployment, Global Security Directorate, Oak Ridge National Laboratory. "She is very passionate about this subject and will have you feeling just as passionate about it, by the end of her speech. The need for integration and standardization within the biosurveillance community is now, and Laurie understands this."
Laurie's impressive background has made her one of the most well-known and highly respected individuals in the biosurveillance community — some of her major accomplishments include:

Bestselling author of The Coming Plague
Featured articles in Foreign Affairs, Esquire, and The Washington Post
Frequent appearances on television shows, such as Nightline, Charlie Rose, and Oprah.
Script consultant for the film "Contagion," directed by Steven Soderbergh and starring Matt Damon
A Senior Fellow for Global Health at the Council on Foreign Relations
Co-chair on the UNAIDS High Commission on HIV Prevention
Former president and now a member of the National Association of Science Writers
Awarded three honorary PhDs, the latest, in 2009, from Georgetown University
Attend the 2012 Biosurveillance Conference to hear Laurie Garrett and other leading professionals, give their perspectives on biosurveillance. For more information and to register, please visit: http://bit.ly/KwjzM3
About NDIA:
The National Defense Industrial Association (NDIA) is America's leading Defense Industry association promoting national security. NDIA provides a legal and ethical forum for the exchange of information between Industry and Government on National Security issues. NDIA members foster the development of the most innovative and superior equipment, training and support for warfighters and first responders through our divisions, local chapters, affiliated associations and events.