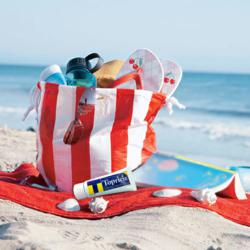 Be prepared by keeping a first aid kit on hand for any incident that could put a damper on summer fun.
Rhinebeck, NY (PRWEB) June 27, 2012
Summer is officially here, which has vacationers ready to head to the beach to catch some rays and waves. Whether it's a family trip to the beach or parents sending their kids to spend the day by the shore, lake or pool, there are several must-have items that everyone should have in their beach bag before enjoying their fun in the sun.
Topical BioMedics, Inc. Rhinebeck, NY, the makers of the Topricin line of natural biomedicine pain relief and healing creams, recommends items that families shouldn't be without this summer.
-Lip balm: Lip protection is important to keep lips from getting chapped by the breeze or burned by the sun.
-Water shoes or flip-flops: Choose shoes that you can get wet and rinse off easily. If you are heading to a public pool that has rough cement, fresh water swimming with a rocky bottom or ocean it would be safer to opt for water shoes with rubber soles with a mesh covering to protect your family's feet and toes. Shoes also help protect delicate feet from hot sand and asphalt, which can cause severe burns.
-Water bottle: Even though your family is spending the day at the beach, it is very important that you rehydrate throughout the day and having water handy will encourage your kids to replenish their fluids. Avoid alcoholic beverages, caffeine soda, and other carbonated drinks which are dehydrating.
-Head protection: Whether you choose a floppy straw hat, a trendy baseball cap or bucket cap – be sure to include hats for every member of your family in your beach bag. Remember that ears get sunburned too so choosing a wide-brimmed hat is extremely useful for keeping the sun off of your ears, face and head.
-Eye protection: Sunglasses help keep the eyes shielded from the harmful effects of the sun and also keep you from squinting, which cause wrinkles. Be sure to choose sunglasses that have UV protection.
-Sun protection: According to the Environmental Working Group, the best sunscreen is a hat and a shirt because there are no chemicals for the skin to absorb, no questions about whether the product works, and no bogus claims like "sunblock." But if sunscreen is a "must," visit their website http://www.ewg.org to read their "2012 Sunscreen Guide" for information on choosing the safest.
Summer first aid kit for active families:
Be prepared by keeping a first aid kit on hand for any incident that could put a damper on summer fun. The Topricin Junior "Boo Boos Happen" kit features a convenient zippered pouch with a tube of Topricin Junior pain relief and healing cream—which is a safe, natural alternative to chemical-based pills, ointment, and liquids—plus "Ouchies" design-your-own self-adhesive bandages with their own coloring markers, and handy travel-size packets of original Topricin Pain Relief and Healing Cream and Topricin Foot Therapy Cream.
From eczema to bug bites, bumps and bruises and from poison ivy to sunburn, one small tube of Topricin Junior Pain Relief and Healing Cream soothes the skin you're in to revitalize, restore, moisturize and provide vibrancy and energy to your family's skin. In addition, Topricin has highly purified water, plus coconut oil, which is a fabulous emollient for skin of all ages and provides natural, healthy moisture.
The Boo Boos Happen kit also saves plenty of room for tucking in other essentials, such as:
-Ear plugs to keep water out of the ear to avoid discomfort and prevent bacterial from infecting the ear
-Goggles to protect eyes and/or natural/homeopathic eye drops to relieve irritations
-A vial of vinegar to treat jellyfish stings
-Tweezers
-Alcohol wipes to disinfect or cleanse
-Antibiotic ointment to treat open wounds
About Topical BioMedics, Inc.
Headquartered in Rhinebeck, NY, Topical BioMedics is the research and development leader in topical regulated natural biomedicines for pain relief. The company's flagship product, Topricin® Pain Relief and Healing Cream, was introduced in 1994 and is now a leading natural therapeutic brand. A combination biomedicine formula, Topricin has been awarded a patent for the treatment of pain associated with fibromyalgia and neuropathy.
Topricin products are formulated with approved homeopathic medicines as found in the HPUS (Homeopathic Pharmacopoeia of the United States) and are in compliance with federal rules for homeopathic over-the-counter medicines. Safe for diabetics and pregnant and nursing women, the products contain: no parabens, petroleum or harsh chemicals, are odorless, greaseless and non-irritating, and produce no known side effects.
Topricin is available in pharmacies, natural food stores and other fine retailers nationwide, including Whole Foods, Vitamin Shoppe, Vitamin World, Fred Meyer, Wegmans, and other retail stores throughout the U.S., as well as direct from the Topical BioMedics' online store. For more information visit http://www.topricin.com.
# # #
Sources:
Environmental Working Group
Beach-net.com
WebMD
Centers for Disease Control and Prevention (CDC)
About.com