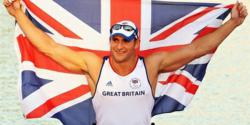 I set out four years ago, post-Beijing, to defend my title on home water and I am so proud that I have been selected to represent my country and compete at the London Paralympic Games
(PRWEB) June 27, 2012
Paralympic and world champion Tom Aggar will head an eight-strong steam of rowers for the London 2012 Paralympics.
Aggar will defend his title in the 'arms and shoulders only' single scull event in which he took gold in Beijing in 2008 - rowing's debut Games. "I set out four years ago, post-Beijing, to defend my title on home water and I am so proud that I have been selected to represent my country and compete at the London Paralympic Games," said Aggar.
Aggar is unbeaten in his event and will be a firm favourite for gold in London, but GB Rowing team performance director David Tanner said all of the team will face increased competition from 2008 when GB topped the medal table with two golds and a bronze.
"We are ambitious to show well at the home Games as part of a well-prepared and focussed ParalympicsGB team," he said. "We are aware that other nations have been developing and funding their Paralympic rowing programmes since Beijing and look forward to some great racing at Dorney during the Games."
Great Britain named the mixed adaptive coxed four that won the world title in Bled in 2011 - Pamela Relph, Naomi Riches, Dave Smith and James Roe, along with cox Lily van den Broecke. Riches is the only survivor from the Beijing crew that won bronze and she said: "Competing at the London Paralympic Games is something that I have thought of every day since the 2012 host country was announced. As each year passed it became more real and now it is just days away. I am so excited about this summer, the training leading into the Games and the Games themselves; being part of this crew is incredible beyond words, let alone competing on home water in front of a home crowd."
Since Beijing, Britain have also developed a new mixed adaptive double scull with Nick Beighton and Sam Scowen to compete in London.
Beighton is a Captain in the British Army who was injured in Afghanistan and only took up the sport last year. "I am proud to have served my country in the Armed Forces and now this is a great honour to represent my country again in a completely different way," he said. "It has been a long hard journey since I was injured and I just want to take this opportunity to thank the countless number of people who have helped me along the way. "I wouldn't have achieved this without their support and encouragement. It is a unique opportunity to compete in a home Games and truly a once in a lifetime chance. Having the support of the nation behind us will hopefully lift our performance to the highest level. I can't wait."
All three boats qualified for the Games through the 2011 World Championships in Bled where Aggar and the four won gold and the double were finalists.
PARALYMPICSGB ROWING TEAM
Arms & shoulders single scull
Tom Aggar
Trunk & arms mixed double scull
Nick Beighton & Sam Scowen
Mixed legs, trunk and arms mixed adaptive coxed four
Pamela Relph, Naomi Riches, David Smith, James Roe & Lily van den Broecke (cox)