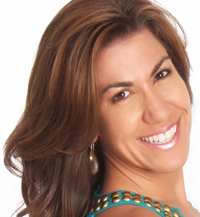 Don't wait any longer for someone to hand you your big life or your thriving business," Sasevich writes. "Get out there and live Sassy.
(PRWEB) June 29, 2012
Heart-centered entrepreneurs interested in making 6 figures by speaking about what they love can now access Lisa Sasevich's new, best-selling book, "The Live Sassy Formula," on Kindle. The book launched to rave reviews a few months ago and hit 3 #1 Best Seller lists in May. It features Sasevich's insider tips and no-nonsense advice for making money speaking so readers can get known, get paid and live the lives they truly want to!
"Living Sassy is about riding your own horse. It's about picking your direction and going for it – and not worrying about what the so-called competition is doing. It's about assuming the throne," Lisa writes in a recent blog entry. "I realized that I'm uniquely designed to help heart-centered entrepreneurs get their expertise out into the world with confidence, without being pushy or salesy."
According to Sasevich, "The Live Sassy Formula" contains the plan – the formula – so entrepreneurs can discover their mission, obtain the mindset necessary to propel themselves forward, and then create a strategy for sharing their work with the world, in a big way, while getting paid handsomely to do it.
"Don't wait any longer for someone to hand you your big life or your thriving business," Sasevich writes. "Get out there and live Sassy."
When heart-centered entrepreneurs read this book, they learn:

3 simple step-by-step methods that connect them with their mission and core message so they attract the right clients
How to stop trading hours for dollars, leverage their time, and make big money from their expertise
The #1 no-cost way to attract clients, test-market new products and program ideas, and become a leader in their industry FAST
Insider's tips and action steps they need to get known, get paid, and live the life of their dreams
Thousands of people have already purchased "The Live Sassy Formula" on Amazon, and now that it's available in a Kindle Edition, readers can purchase it and begin reading immediately.
Heart-centered entrepreneurs can buy a hard copy or the Kindle Edition of "The Live Sassy Formula" here: http://amzn.to/MyKSUD
Recently honored as one of America's Top Women Mentoring Leaders by WoW magazine, Lisa Sasevich, "The Queen of Sales Conversion," teaches experts who are making a difference how to get their message out and enjoy massive results, without being "sales-y."
Recognized sales expert by Success Magazine, Lisa delivers high-impact sales-closing strategies for turbo-charging entrepreneurs and small business owners to great profits. According to best-selling author Brian Tracy, "Lisa Sasevich is one of the greatest discoveries in America today!"
After 25 years of winning top sales awards and training senior executives at companies like Pfizer and Hewlett-Packard, she left corporate America and put her skills to test as an entrepreneur. And in just a few short years, Lisa created a multi-million-dollar home-based business with 2 toddlers in tow. Lisa is the undisputed expert on how to make BIG money doing what you love.