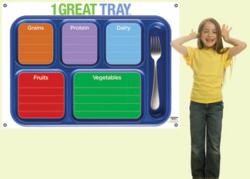 Owatonna, MN (PRWEB) June 27, 2012
The time it takes to develop a habit varies. The average rule used to be 21-28 days, but some researchers say it's closer to 66. It depends on the individual, but the keys to creating these habits are repetition and consistency.
Healthy eating as a habit is a goal many of us strive for. The new MyPlate icon announced by Michelle Obama and the USDA last June introduced an easy and achievable way to create those healthy habits. Daily reminders are needed to enhance our understanding of MyPlate and bring us closer to developing healthy habits.
New dry erase menu boards developed by Learning ZoneXpress serve as a vibrant visual reminder to incorporate all food groups into every meal. Promote healthy meals by displaying daily breakfast, lunch, and dinner menus categorized by food group segments of MyPlate. This not only makes the connection between fruits, vegetables, lean protein, whole grains, and low-fat dairy, but it also ensures we have the proper portions of each present in our meals.
These boards come in two varieties making them versatile for any location:

The 1 Great Tray™ dry erase menu board is perfect for school cafeterias bringing the messages of MyPlate that are taught in the classroom into action at mealtime. Students are able to identify the food components of each group and select accordingly. The board is a great source of encouragement for children to make healthy choices for a productive school day.
The MyPlate dry erase menu board also is appropriate for cafeterias, hospitals, serving lines, restaurants, and even your home.
Each menu boards is available from Learning ZoneXpress in two sizes, 18" x 24" and 32" x 45", to fit any size space.
Learning ZoneXpress, based in Owatonna, Minn., is a leading source of "edu-taining" and award-winning teaching tools. Its mission is to help improve the health and vitality of children by providing relevant, creative and affordable learning tools about life skills, healthy behaviors and nutrition. Learning ZoneXpress offers a wide variety of learning aids and affordable education DVDs, posters, games, lesson plans, and PowerPoint presentations. For more information about Learning ZoneXpress products, visit http://www.learningzonexpress.com or call Toni Gnasdoskey at 888-455-7003.