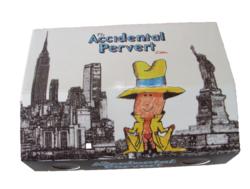 It's exciting to be the only show in town offering such a unique product
New York, NY (PRWEB) June 29, 2012
Highly acclaimed Off Broadway show, The Accidental Pervert, was selected as the first show in the country to offer the highly popular FanOculars for sale during performances of the show.
FanOculars are custom made, portable binoculars with images of sports and entertainment trademarks printed directly on the front and back. By customizing the design, an ordinary pair of binoculars is turned into a unique souvenir. For The Accidental Pervert show, FanOculars, LLC produced an exciting design that features images of the 'pervert caricature' in many comical poses.
Andrew Goffman, creator/actor of the show, began offering the FanOculars for sale a few weeks ago. "It's exciting to be the only show in town to be offering such a unique product. Our fans have been excited and they are going over real well. Now my peeping tom fans have something they can use during and after the show and (for the tiny group of unfortunate) in the bedroom," says Andrew.
To celebrate this partnership, the show is offering fans who attend the show in July, a free pair of FanOculars. Andrew will also offer an autographed pair for anyone who wants it. "These will become instant collectables, like an original Babe Ruth trading card," joked Andrew.
To receive a signed FanOculars, mention the word "peep" when entering the theater. Tickets are available at 212.352.3101 or by visiting http://www.TheAccidentalPervert.com.
The Accidental Pervert is a laugh-filled hit show currently at the 13th Street Repertory Company in New York City. For three years, star Andrew Goffman has been charming sold out crowds with the story of how he found his Dad's stash of adult videotapes when he was 11 years old. He takes the audience on a comic journey about how he stopped looking at the world through porn-influenced eyes to become a loving husband and father. The play is also a huge success in Buenos Aires starring the popular Argentine comic Cabito
FanOculars, LLC is a company that manufactures, markets and distributes the FanOculars brand to well know sports and entertainment entities. http://www.fanoculars.com