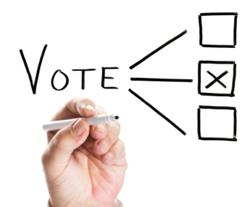 4.5 million Catholic votes are at-risk for President Obama.
Worthington, OH (PRWEB) June 27, 2012
In a recent poll, Americans are still unsure of President Obama's faith. Interestingly, according to an analysis of the most recent American Pulse™ Survey (June-12, N=3,579), support among Christians who previously cast a vote for the incumbent appears to be eroding. Further, support among his Catholic voters seems to be diminishing as well.
Of Christians who voted for Obama in 2008 and are likely to vote in 2012, 8.0% report they would cast a ballot for Romney if the election were held today, translating to an estimated 4,996,180 voters. Further, 14.3% are undecided, which equals 8,899,010 voters. When you compare that total number (13,895,190) to the total number of votes cast for Obama in 2008, it accounts for 20% of his total ballots now being at-risk.
Specifically looking at Catholic likely voters who voted for Obama, at-risk votes are estimated to be 4,486,242, with 9.2% saying they would vote for Romney (1,895,643) and 12.6% undecided (2,590,599). Loss of support among this segment could be especially damaging to the president as Catholics in general were a key demographic that helped carry him to victory in 2008.
Overall, Romney leads Obama among all likely Christian voters with 53.4% saying they would vote for the challenger, compared to. 33.3% for the incumbent. And it seems the economy is playing a major role in their consideration. 60.5% believe the economy is heading in the wrong direction and it is the #1 issue that will impact their vote in November.
"Which of these issues will have the most impact on your vote in the 2012 Presidential Election?"
Likely Christian Voters
TOP 5 ISSUES
Economy (42.0%)
Government Spending/Budget Cuts (16.0%)
Healthcare (8.5%)
Job Creation (8.3%)
Taxes (4.8%)
Source: American Pulse™ Survey, JUNE-12
And with 58.8% of likely Christian voters somewhat/very excited to vote, we can expect this group to show up at the polls.
For a full complimentary report, click here.
American Pulse™
The American Pulse™ provides a timely view of how people feel about topics such as politics, pop culture and the economy through the American Pulse InsightCenter™. This center provides advanced cloud-based technology-driven answers, which are delivered via multiple devices (PC/Tablet/Smartphone), regarding the current state of the union through the eyes of Americans. 3,579 respondents participated in the 2nd June American Pulse conducted 6/19-6/25/2012. Margin of error is 1.6%.
reInvention LLC
reInvention LLC provides global sampling and data collection services. Driven by a passion for making it incredibly easy to survey audiences anywhere in the world, reInvention delivers high-quality responses and superior results. OneOpinion, reInvention's respondent panel, is a next generation survey taking platform that encourages survey participation through sophisticated technology, honest communications, and respectful compensation. reInvention was founded by Hugh Davis and Keith Price and is headquartered in Westport, CT. http://www.reInvention.com
###
Contact:
Chrissy Wissinger, Senior Manager, Communications
chrissy(at)biginsight(dot)com
Dianne Kremer, Senior Analyst
dianne(at)biginsight(dot)com
614-846-0146
reInvention LLC
Jim Nikolis
jnikolis.reinvention.com
203.635.0882