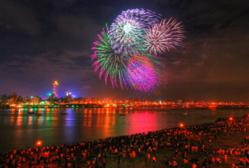 The 4th of July is a surprisingly dangerous holiday.
Portland, OR (PRWEB) June 28, 2012
Every year, thousands of people are injured in fireworks accidents and drunk driving crashes on the fourth of July. This year, let's look at the facts and avoid injury by being safe, say the Portland drunk driving accident attorneys at Shulman DuBois LLC.
According to the US Fire Administration's statistics, in 2010 there were 8,600 people injured by fireworks in July, and over 50% of these injuries were to children and young adults under 20 years old. And according to the National Highway Traffic Safety Administration, in 2010, there were 392 people killed in drunk driving accidents.
"The 4th of July is a surprisingly dangerous holiday," said drunk driving injury attorney Sean DuBois. "We hope this information will reach people and they'll be more careful – and make their friends be more careful."
Every year, the Oregon Department of Transportation plans a crackdown on drunk driving. Their website states that, according to ODOT's Fatality Analysis Reporting System (FARS), nearly 300 people have died in Oregon during the 4th of July period since 1970. In 2009, Oregon State Police also arrested 76 DUII drivers, according to their press release.
For fireworks accident injuries, it is important to look at the 2011 fireworks-related injury data released by the Oregon Office of State Fire Marshal. According to this report, there were 174 fires started in Oregon by fireworks, and 23 injuries. Nearly 75% of the injuries involved burns, and in over half, the injuries were to fingers or hands.
Here are some tips on fireworks safety:
1. Store fireworks safely until you're ready to use them, and make sure kids know not to take them without adult supervision.
2. Don't light or use the fireworks in an area with fire hazards – even small sparks can set dry grass, for example, on fire.
3. Make sure to have water nearby – a bucket, hose, etc.
4. Do not let anyone stand too close to the fireworks.
5. Designate a sober adult to be in charge of lighting all the fireworks.
Tips on preventing Portland drunk driving injury accidents:
1. Serve non-alcoholic drinks at every function.
2. Have a designated driver (duh!) and make sure this person is assigned before going to a bar, party, etc., and has the keys.
3. Refuse to serve alcohol to anyone under 21.
4. Take away the keys of friends who have been drinking – even if they get mad at you, it's better than feeling guilty about their accident later.
5. Report any drivers you see who are swerving or driving erratically by calling 911.
About Shulman DuBois LLC:
The Portland personal injury law firm of Shulman DuBois LLC, is based in SE Portland, OR. Partners Joshua Shulman and Sean DuBois specialize in auto accidents, including injuries caused by drunk drivers, as well as bicycle accidents, pedestrian accidents, and wrongful death cases. For a free consultation, call 503-222-4411 or visit http://www.portlandpersonalinjuryaccidentlawyer.com.