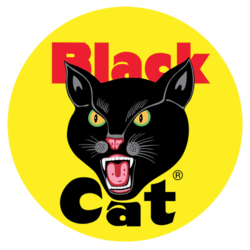 Black Cat is the Best You Can Get!
Lone Jack, MO (PRWEB) June 29, 2012
As the Fourth of July quickly approaches, Winco Fireworks International, LLC, the U.S. distributor of Black Cat Fireworks, encourages everyone to use fireworks safely and with common sense.
"Firework injuries are currently at an all-time low," said Michael Collar, president of Winco Fireworks. "I encourage everyone to follow the simple guidelines provided by the American Pyrotechnics Association to make sure that your holiday celebrations are not only fun, but safe as well."
As families start to light fireworks during their Fourth of July parties at home, Winco and the APA advise that everyone uses the following guidelines when using any type of firework:
-Always read and follow the directions on the product's label
-Have a working garden hose or bucket of water handy
-Use fireworks outdoors in a safe, flat and non-wooded area
-Keep everyone a safe distance away from fireworks
-Never allow young children to handle fireworks or sparklers
-Always have a sober adult in charge of all fireworks activities
-Light one firework at a time
-Never re-light fireworks
-Never shoot fireworks in a metal or glass container
If consumers follow these simple guidelines, they can still enjoy fireworks, even in dry areas of the country.
Millions of Americans celebrate this great moment in American history by using fireworks. By educating the public on fireworks safety, this will ensure another happy and safe Fourth of July.
For more information on fireworks safety, visit http://www.americanpyro.com.
About Black Cat®:
The Black Cat® brand was introduced in the US in the 1940's and is now the oldest and most highly recognized fireworks brand in the country. Over the past 60 years, Black Cat® evolved from the basic firecrackers to a Product Line that contains over 500 items today! Continued focus on Quality and Innovation has made Black Cat® an International Brand, with presence in markets all around the world.
About Winco Fireworks International, LLC.:
Winco Fireworks International, LLC, has been family owned and operated since 1979. Located in Lone Jack, Mo., Winco is the largest distributor of Black Cat Fireworks in the United States. For over 30 years, Winco has been committed to creating the highest quality and safest products in the fireworks industry. As a leader in fireworks safety, Winco frequently partners with the National Council on Fireworks Safety and the American Pyrotechnics Association to help educate the public on the proper use of fireworks to ensure fun and safe celebrations across the country. For more information about Winco Fireworks, visit http://www.wincofireworks.com or call 816-697-2217.