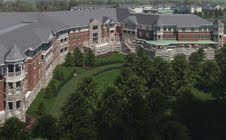 Interest in the new expansion has come from as far north as Rhode Island and as far south as Florida...
Hanover, VA (PRWEB) June 28, 2012
The Board of Directors for Covenant Woods, a growing accredited Continuing Care Retirement Community in Hanover County, Virginia, has approved a resolution to break ground on a new $78 million expansion that will include new amenities, residences and community enhancements. When complete, the expansion will nearly double the number of Covenant Woods' independent residences. The only expansion of its kind opening in the area within the next few years, it will position the community well to meet the changing needs of seniors who enjoy an active and rewarding lifestyle.
The centerpiece of the expansion is The Lodge, nestled along a woodland near nature trails. The Lodge will contain new amenities such as a classic pub, relaxed dining restaurant, community center, first-floor parking and an outdoor terrace. The expansion will add 84 apartments and 22 freestanding cottages. Community enhancements include an indoor heated pool, fitness center, day spa, library, and expanded bistro.
"Covenant Woods has maintained an occupancy level of 94% in our current campus during our pre-sales effort for the new expansion," says Tim Johnson, president and CEO of Covenant Woods. "Interest in the new expansion has come from as far north as Rhode Island and as far south as Florida, although 70% of our depositors, or "Trailblazers," come from the greater Richmond area."
This is the second expansion undertaken by Covenant Woods since opening its doors in Hanover in 2001. With the senior living market seeing double-digit growth over the next decade and the Baby Boomer generation turning 65, it was clear to Covenant Woods' leadership to move forward in breaking ground.
"Our 75-acre campus gives us enough room to increase the size of the community while maintaining the beautiful and open natural setting that residents enjoy," comments Johnson.
The expansion is scheduled to take two years to complete with the 22 freestanding cottages expected to be completed by the end of 2013 and The Lodge and its amenities to finish by the end of 2014.
About Covenant Woods
Covenant Woods is a not-for-profit Continuing Care Retirement Community located in Hanover County, Virginia. Its tradition of excellence in retirement living began in 1883 with The Richmond Home for Ladies. Over the years, the community was moved to the historic Fan District and then to its present location in Hanover County. The community is dedicated to recognizing the dignity and inherent worth and quality of all persons. Covenant Woods delivers the highest quality care and services possible, while exercising stewardship of its financial resources, benevolent funds and physical assets to ensure its commitment to providing for present and future residents. For more information, please call 804.569.8000 or visit http://www.covenantwoods.com.
Contact:
Beth Richardson, Director of Marketing
Covenant Woods
7090 Covenant Woods Drive
Mechanicsville, VA 23111
804-569-8004