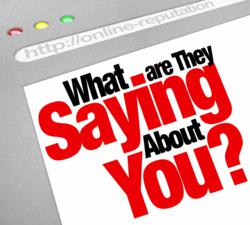 Denver, CO (PRWEB) June 28, 2012
InternetReputation.com is proud to lead the way in the internet reputation technology industry. Their services and expert analysts excel in removing any and all potentially damaging information from search engines and across the internet. InternetReputation.com's success comes from their willingness to provide small businesses with a level of reputation security solutions that major enterprise businesses rely on.
Business owners know that their business' public reputation and their personal reputation can dramatically impact their bottom line, positively or negatively. All business owners are vulnerable to negative customer reactions against their name or their business's brand. Thanks to the prevalence of online customer review sites, internet slander and defamatory attacks are more common than ever, and can leave lasting damage on someone's own name or their business for years to come.
InternetReputation.com has developed a wide variety of reputation protection services that can protect individuals and businesses from these attacks and slander online. Their unique reputation management services blend technical expertise with website development and search engine technology, with marketing strategies and strategic content optimization. These services can successfully mitigate negative business reviews, customer complaints, slanderous attacks, defamation from competitors, arrests and police reports, and all kinds of other damaging information for clients. They also offer free consultations and complete solutions for future protection and constant monitoring.
InternetReputation.com is an award-winning internet reputation management firm that provides services ranging from repairing and removing negative information currently available on the internet, seeking out and protecting against future attacks against client reputations, and expert online crisis management situations. Our technicians are highly trained in identifying and removing negative listings from the internet, and we can solve reputation-compromising incidents online quickly, efficiently, and with complete confidentiality. We also specialize in developing positive online assets that will counteract negative information while we fix your reputation problems.