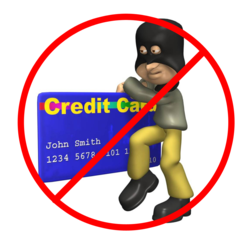 In this way we're not only protecting our business against fraudulent transactions, but also consumers who have had their cards stolen.
(PRWEB) June 27, 2012
Identity theft and credit card fraud discriminate against no one, while affecting millions of persons around the world each year. Fraudulent credit card transactions not only cost cardholders billions per year, but likewise the merchants who process their orders, and one company owner in particular has had enough.
In 2011 Hydro Grow LED lost over $20,000 on fraudulent credit card transactions processed via their website due to loopholes in Visa, Mastercard, Discover, and American Express processing regulations. According to company owner Cammie Mckenzie, card-issuers have no form of name verification service offered to merchants for orders placed via the internet, and as a result there have been a high number of transactions approved for persons using an alternate name from that of the cardholder. These transactions often show the proper billing information and security code on the back of the card, which is the only information card-issuers verify other than the card number itself.
According to Cammie Mckenzie the actual owner of the credit card later calls in to their bank to file what is called a chargeback, where the bank removes the funds from the merchant they were originally paid and re-credits those funds back to the customer. In these instances Hydro Grow loses both the money they were originally paid for their merchandise as well as the cost of the merchandise itself and shipping expenses.
"In 2012 we saw a high rise in fraudulent transactions where card-issuers were refusing to provide address verification (AVS) matching on certain credit cards, making our company ineligible to fight chargebacks on these transactions. We were also advised that merchants like us have no protection on any international purchase, and therefore we should essentially refrain from selling outside the USA." Cammie Mckenzie commented, "So now we're fighting back. If card-issuers won't enact better fraud-protection policies for merchants then we have to start protecting ourselves."
According to Cammie Mckenzie Hydro Grow has made several new policy changes in 2012 to prevent fraud, including shipping waivers for persons who wish to ship to an alternate address from the billing address on their credit card, and identity verification for orders with any mismatch information or unavailable address verification. "We now require customers whose banks send us a mismatch AVS or unavailable response to provide a copy of their credit card and ID for verification. In this way we're not only protecting our business against fraudulent transactions, but also consumers who have had their cards stolen."
This proactive approach by Cammie Mckenzie and her company fall in line with standard practices one would experience at your local department store. Whenever you use your credit card, the clerk processing your order always asks to see your ID to verify that the credit card belongs to you. While online transactions essentially have no clerk or face-to-face interaction, the policies set in place by Hydro Grow offer a higher level of protection for both the company and their customers. According to Mckenzie, fraud has fallen to almost zero transactions since enacting the new policies at Hydro Grow, however she still feels that card-issuers need to do more to protect merchants in a world where almost every business is now online.
About Cammie Mckenzie:
Cammie Mckenzie is the president and co-founder of LED Grow Light company Hydro Grow LED. Cammie Mckenzie overseas all day-to-day operations at Hydro Grow as well as the research, development, and engineering that takes place behind the scenes.