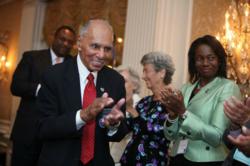 Where you have a diverse company, where you have a diverse community, things will be better for everyone, and that's the message that we want to send when we say "erase racism".
Garden City, NY (PRWEB) June 28, 2012
"If Long Island can be the Cradle of Aviation and the home of Grumman, the Republic, the P-47, and the place on Roosevelt Field where Charles Lindberg quested forward, if Long Island can be the leader in that, why can't it be the leader in erasing racism?" asked Dr. Roscoe Brown, former Tuskegee Airman and renowned educator, to an audience of over 300 people at ERASE Racism's 2012 Annual Benefit.
In addition to being the organization's largest fundraiser, ERASE Racism's Annual Benefit is also an event to raise awareness about the need to create racial equity. All three of the night's honorees have made a significant difference in the fight against racism. In addition to Dr. Roscoe Brown, who was awarded with the Abraham Krasnoff Courage and Commitment Award, the same award was also given to Joan Saltzman for her life-time commitment to combat discriminatory practices, and to strengthen and expand health and human services for Long Island and New York's most vulnerable residents. The Corporate Leadership Award was presented to the North Shore-LIJ Health System for their visionary leadership to create equity and excellence in healthcare.
The program began with a recognition of the sponsors by the Benefit Committee Co-Chairs and welcome by ERASE Racism's president Elaine Gross. Ms. Gross introduced Kwesi Aaron, a graduating senior from Roosevelt High School who won the organization's 2012 Essay Contest, which asked students to reflect on how youth can take action to bring about racial justice. Mr. Aaron's essay focused on the need to challenge stereotypes and become conscious about the history of race and racism in this country. He won a cash prize of $500 and had his article published by ERASE Racism.
The evening's first honoree Dr. Jennifer Mieres, Senior Vice President of the Office of Community & Public Health, who accepted the Corporate Leadership Award on behalf of North Shore-LIJ Health System, spoke about the need to close racial disparities in health and the efforts by the System to see that every patient is provided with quality care. She explained that even though there have been a number of advancements in public health, "when you take a look at the new statistics released by the Centers for Disease Control, you see that in all of the chronic diseases, people of color are at a higher risk for death and a higher prevalence for such diseases as heart disease, diabetes, and complications related to obesity." Dr. Mieres added, "I applaud ERASE Racism for reminding us and encouraging us to be partners as we work together to eliminate disparities in health care and provide culturally and linguistically appropriate care for all of our citizens."
Honoree Joan Saltzman also spoke about disparities in health services, as well as other areas, such as housing and education on Long Island. Ms. Saltzman said, "As a much younger woman, I helped to create Community Advocates—this was more than 40 years ago—and served as its president and CEO. My colleagues and I came into contact with a whole load of bad discriminatory practices, ugly discrimination in hospitals and emergency rooms, in realtors' offices and in our educational institutions...We found discriminatory practices in many local places and businesses...We found many pharmacies that were charging African American customers more for the same prescriptions, on the same day and even on the same hour as they were charging white customers." She added, "We acted. We made change where we could, however, whether we were responding to the blatant racism of pharmacists, other citizens, law enforcement officers or the insidious presence of racism in schools, we needed then, as we do now, the expertise, power and professionalism that ERASE brings to this world."
Honoree Dr. Brown captivated the audience with his stories as a Tuskegee Airman and with his advice as an expert in education. He closed his acceptance speech by saying, "Now excellence in Long Island means that we should have racial diversity and ethnic diversity in every single community; we should have affordable housing in every single community. I know there are some economic challenges there, but the fact is that the research indicates that where you have a diverse company, where you have a diverse community, things will be better for everyone, and that's the message that we want to send when we say "erase racism". It doesn't mean one group being better than another. It doesn't mean groups competing with one another. It means working together for a better community."
Photos from the 2012 Annual Benefit can be viewed on ERASE Racism's website at http://www.eraseracismny.org. Videos of the acceptance speeches will also be available in the coming days.