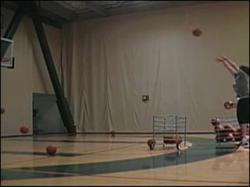 Tigard, OR (PRWEB) June 28, 2012
Dan Loriaux has already broken one record by sinking the most 3 point shots within one minute. He successfully sank 25 beating the previous World record in the Guiness Book which was 20 in one minute. This Saturday he will try to beat the World record of most shots in 24 hours to raise money for Mentor Athletics. The location will be at ClubSport Oregon off Lower Boones Ferry Rd. ClubSport will support Dan who is a member by donating staff to keep the facility open for Dan's endeavor.
"I am hoping to raise money for by breaking this world record is called Mentor Athletics. I strongly believe that sports provide an ideal medium for instilling the values, discipline, and work ethic that can bring athletes success in their lives outside the gym. Mentor Athletics offers this structure and guidance to Portland kids who would otherwise miss their opportunity to learn and benefit from sports. Before I begin medical school at Duke next year, I want to take advantage of one final opportunity to contribute to a cause that I have gained so much from. On that note, I do not have very much experience when it comes to organizing charity events. If you have any advice regarding how I can best go about locating possible sponsors, I am grateful for your help. Club Sport has quite literally been my second home since it opened as Sports Nation in 99, and I hope that we are able to work something out because there is no other place that I would rather set this record."