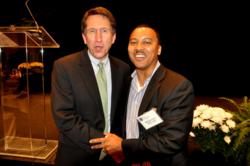 I had to give back to Jack for giving to me
Houston, TX (PRWEB) June 30, 2012
Several MBA students from Rice University, Boston University, MIT, and UC Davis met in Boston to change the world in the first quarter of this year. These students listened to Jeff Mullen explain his "Dynamic Story" of how he is revolutionizing the payment card industry. They also visited the headquarters of iRobot Corporation to witness up close the breakthroughs in artificial intelligence and robotics. The event was called Ignite, and is the brainchild of legendary venture capitalist, Jack Gill.
Malcolm Sykes, Vice President of Business Development at Wells Fargo, supported the program by donating personal and corporate funds to Rice University for minority student attendance. Mr. Sykes is a graduate of the program, and is currently working with a group of Stanford University graduates on a startup called Social Meter. "I had to give back to Jack for giving to me" says Sykes, who attended the program in Silicon Valley while doing his MBA at Indiana University.
Other supporters included Michael Holthouse (featured on Social Meter as a successful entrepreneur willing to take a meeting on behalf of his charity), Bill McCullen (Director of Launch Capital), Nicholas Seet (Founder of Auditude), The Carlyse and Arthur Ciocca Foundation, and Jeff Fagnan (Lead Investor in Data Power).
The students remarked that "Ignite has rekindled my desire to do the impossible" and that it was "the most inspiring moment of my two-year MBA life". The program's is mission is to fuel tomorrow's entrepreneurs.