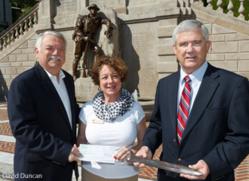 Lynchburg, Va. (PRWEB) June 27, 2012
Liberty University is helping to repair a city landmark created to honor the men of Lynchburg, Va., who served in World War I.
When it was discovered that a bayonet on "The Listening Post" statue (commonly called the "Doughboy") at the base of Monument Terrace in downtown Lynchburg had been broken off, Neal Askew, Liberty's Executive Vice President, saw an opportunity to help.
"When I saw the news article saying there had been damage to the statue downtown due to vandalism, I immediately thought that with our connection, and our love for God, family, country, and the military, it would be something we could participate in."
The vandalism doesn't appear to be intentional, as the bayonet was left leaning against the statue.
Askew called City Manager Kimball Payne and told him to let him know what the cost was to repair it and that Liberty would like to contribute.
"We have a great emphasis at Liberty with our military involvement and our military students, so this is another step of showing our support of our military forces," Askew said.
On Wednesday morning, Askew presented a check for $2,000 to cover the repairs to Doug Harvey, Lynchburg Museum System director, and Sally Schneider, executive director of the Lynchburg Historical Foundation.
The bronze statue, surrounded by a fountain, accompanies other monuments at Monument Terrace, built in 1925 to commemorate Lynchburg citizens who fought and died in the nation's wars. Monument Terrace has 139 stairs leading from Church Street up to Court Street and is one of Lynchburg's most famous landmarks.
Harvey said the Doughboy's bayonet appeared to have been repaired two other times, but this time, with Liberty's donation, it will be welded with pins inserted for longer lasting reinforcement. The work will be completed this summer.
Schneider said the historical foundation, through its Lynchburg Save Outdoor Sculpture Committee, gave $40,000 about 10 years ago to restore the landmark.
"This (Liberty's donation) is phenomenal — this is a shot in the arm for us to get started again," she said.
The foundation is continuing to receive donations to restore statues throughout the city in desperate need of repair.
Askew said Liberty students are spending more time in the downtown area than in the past, as more festivals are being held and revitalization efforts continue along the riverfront.
"We have a great relationship with the city of Lynchburg and hope to improve and continue that over the coming years. We consider Liberty and the city of Lynchburg to be a great partnership, and we want to see it grow."
Liberty University, located in Lynchburg, Va., is the world's largest Christian university. Nearly 100,000 students attend classes on its 6,800-acre residential campus and study in its thriving online education program.