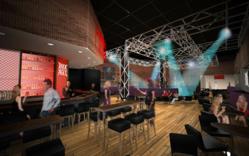 Princeton, NJ (PRWEB) June 28, 2012
The full-service architecture, interiors and product design firm Joshua Zinder Architecture + Design (JZA+D) has announced that the firm's award-winning hospitality design is behind The Bourbon Room, a new Las Vegas club inspired by the legendary Sunset Strip nightclub which serves as a setting for the hit musical Rock of Ages.
At the club's June 1st opening, executives at The Venetian announced that the hotel and resort will be the new home of Rock of Ages, the campy theatrical tribute to the big-hair bands of the 1980s. The musical will debut in mid-December and replace the long-running Blue Man Group at The Venetian, drawing crowds to The Bourbon Room.
"When the performances at The Venetian let out, guests and theater-goers will find their way to a place where they can continue the fun and entertainment of the 1980s," says Joshua Zinder, AIA, founding principal of the Princeton, N.J.-based multidisciplinary design firm, JZA+D. "The design for The Bourbon Room is inspired by the idea of 'backstage meets back alley.' This down-to-earth thematic approach matches the vibe of the show in a nightclub environment, with mood lighting, lounge seating, dancers and a leather-jacket décor that's as rough around the edges as eighties rock."
The backstage-meets-back-alley concept for The Bourbon Room is crafted to subtly transition from The Venetian and its classic Italian style to the rough and exciting nightclub and lounge venue. The result is a uniquely contemporary new attraction for the casino resort.
Recent media coverage has trumpeted the new venue's arrival. President and chief operating officer of The Venetian, The Palazzo and Sands Expo, John Caparella, was quoted in the Las Vegas Review-Journal saying that the Broadway show Rock of Ages is "really a rock concert, right?" adding, "If you like '80s music, you're somewhere between 35 and 55 years old. And that's who my customers are."
An interior inspired by 80s rock
Clad with corrugated metal panels and surrounded with flat-screen displays, theatrical lighting and concert-style speakers, The Bourbon Room features 1980s imagery, everywhere. Materials like stitched faux leather with metal studs recall the fashion of the era, while live dance
performers and a VJ – video jockey, an idea hatched at the dawn of the MTV era – are featured on elevated stages. Actors and cast members from the Rock of Ages musical will encourage the audience members to follow them after the show, across the casino floor, to continue their rock-and-roll experience at the new hospitality and entertainment venue. As Robin Leach recently wrote in the Las Vegas Sun, "The '80s have returned with a vengeance!"
The Rock of Ages experience is expected to energize the casino resort hotel and entice a large base of travelers to Las Vegas with a show that will enhance the guest experience and bring a new dimension to The Venetian for the many people, young and old, who enjoy eighties music and culture.
Converted from the sophisticated energy and elegance of the La Scena Lounge, the renovation to create The Bourbon Room has completely transformed the casino's entertainment offerings, says Zinder. "We are more than doubling the seating capacity, and leaving in the popular bar location and all the slot machines that guests expect," says the architect, adding that the venue's potential revenue has increased as a result.
Zinder has designed such popular Las Vegas Sands Corp. locations as Restaurant Charlie as well as two widely acclaimed restaurants in Singapore: Sky on 57 and Waku Ghin, both at Marina Bay Sands. The firm JZA+D has also designed or planned other retail spaces and public areas for the hospitality and gaming leader's buildings.
From Broadway to Hollywood – to Vegas
"To design a new nightclub venue based on a popular Broadway experience is an exciting opportunity," says Zinder. "The integration of audiovisual technology for the eighties videos was a challenge, but even more so was achieving an environment that would evoke the era and show without being a carbon copy of the sets. The resulting interior is evocative of the show, but it stands on its own."
Also adept at custom furniture, JZA+D designed and created all of the furniture for The Bourbon Room, using a variety of materials and finishes to reinforce the interior concept.
In recognition of their work, in recent weeks Zinder and the firm JZA+D have been featured in Boutique Design and Commercial Building Products magazines and the prestigious Asian design review book, X Space 2, a curated selection of "brilliant designers and outstanding design agencies" that contributed "the most creative space design works" in the world, according to Sandu Publishing.
"It's a real honor to be involved with the Sands properties around the world, especially considering the excellence of its properties and their culture of attentiveness to quality design," says the architect Zinder.