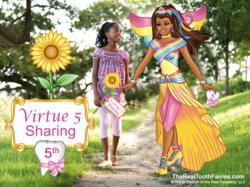 Girls love collecting a Lost Tooth Magic Letter for all 20 of their lost teeth
(PRWEB) June 28, 2012
The Royal Council of the Real Fairyland, LLC announced their 20 Lost Tooth Virtues™ which are now revealed by The Real Tooth Fairies at http://www.therealtoothfairies.com. The unique program features a girl's very own Tooth Fairy, who delivers character-building Magic Letters to her pillow. Each letter helps a girl grow and glow by focusing on one special virtue for each lost tooth.
The 20 Lost Tooth Virtues are rewarded individually for the loss of each tooth. When a child loses a tooth, she gets an illustrated Lost Tooth Letter that shows a specific virtue and the Virtue Flower, which that lost tooth brings to that girl.
"Girls love collecting a Lost Tooth Magic Letter for all 20 of their lost teeth," says Marilyn Bollinger, President of The Real Tooth Fairies, LLC. "Inside each Lost Tooth letter from her Real Tooth Fairy, the Earthie girl discovers the new virtue that lost tooth brings to her, like confidence, teamwork, and determination - all woven into an illustrated mini-story about that virtue."
Since most 6-10 year-olds lose their teeth one at a time, every lost tooth becomes a milestone in growing up. "By celebrating a new virtue with each of her lost teeth, a girl will be Glowing with inner beauty every time she smiles," Bollinger says. "Parents tell us their girls are just as excited about finding out about their new Lost Tooth Virtue as they are about finding tooth fairy money! Parents can also reinforce each virtue with a hug and positive words."
In fact, parents are a big part of the 20 Lost Tooth Letters. How it works is simple. A girl goes online to http://www.TheRealToothFairies.com - with her parent's permission – and she gets matched to her own Tooth Fairy during the Royal Quiz, which consists of 4 questions about the girl's interests. This begins a relationship between a Tooth Fairy and an "Earthie," as human girls are called, where the two write back and forth like best friends sharing all of a growing girl's day to day experiences, like friendship challenges, proud moments and of course, losing a tooth.
The Magic Messaging between a tooth fairy and her Earthie girl has been arranged through inter-realm communication channels from to Bollinger, who has a background in child and family therapy as well as product development for Disney, LeapFrog, and Fisher-Price. "Our goal is to connect with girls in a way that has never been done before. The Magic Letter – delivered straight to the girl's pillow and personalized to the news she shared in her Magic Message - is just one of the ways to nurture this magical childhood friendship," Bollinger says.
A girl's parent plays a very important part in every Magic Letter. The Tooth Fairy asks parents to share 2 things about their special girl to go in the letter. Then, like magic, the letter is ready to print and the tooth fairy flies it to the girl's pillow that night. When a girl loses a tooth, she is thrilled to open her Lost Tooth Letter and discover her new virtue. It's great news for all Earthies that the Tooth Fairy is not just about teeth – she's about celebrating every girl as she becomes her best self.
About The Real Tooth Fairies
The Real Tooth Fairies are represented to Earthies by the Royal Council of the Real Fairyland, LLC, an entertainment company dedicated to the production of excellence in programming and interactive media, tied to consumer products that inspire imagination, foster creativity, and encourage children to spread kindness and change the world. The Real Tooth Fairies focus on character building through positive role models, the 20 Lost Tooth Virtues, and Every Kindness Counts. In addition, a school kindness program involves students in a 4-week program wherein kids are heroes for kindness in their family, school, and community while supporting a global charity.
Marilyn Bollinger, president of The Real Tooth Fairies, is the author of 30 Disney books and has consulted for LeapFrog, Fisher-Price and other top children's companies. As a licensed clinical social worker, she practices family and children's therapy and is leader of parenting workshops. And of course, she's honored to be the Earth's ambassador to all things Real Fairyland, where Love is Magic and Every Kindness Counts!
For more information on the Real Tooth Fairies, please contact: Rachel Frankel at 910.509.0565 or email her at rfrankel(at)TheRealToothFairies(dot)com.
Learn about the Real Tooth Fairies at http://www.TheRealToothFairies.com/guest-services/about-us. Girls can Get Matched to their Tooth Fairy at http://www.TheRealToothFairies.com/registration.
Girls can ask their tooth fairy to fly personalized tooth fairy letters to their pillow at http://www.TheRealToothFairies.com/ask-magic-letters. Shop for treasures at The Real Tooth Fairies Magic Street Shops at https://shop.therealtoothfairies.com/
For a Guide & Gift for parents to get a free Personalized Tooth Fairy Letter go to http://www.ToothFairyForParents.com. To spread Kindness in your family today go to http://www.therealtoothfairies.com/kindness.