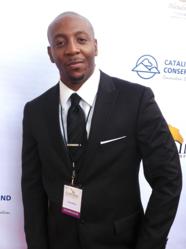 "I only look up once the work is done."
Los Angeles, Calif. (PRWEB) June 27, 2012
Actor and director Choice Skinner has recently had success showing his films at several international film screenings and has more projects in the works.
This spring, Skinner's film "Brotherly Love" was shown at the Catalina Film Festival in Santa Catalina Island, Calif., the Twin Rivers Film Festival in Ashville, NC, and the San Francisco Black Film Festival in San Francisco, Calif.
The film will be awarded as an Official Finalist award in the shorts category at the Las Vegas Film Festival on July 22.
In June, his film "In the Mourning" was selected to be shown at the Hoboken International Film Festival in Hoboken, NJ and the Roxbury International Film Festival In Roxbury, Mass.
His film "Selling It" was shown at the Manhattan Film Festival in June. The film also will be shown at the Long Island International Film Festival July 12 through July 19 in Long Island, NY.
His upcoming screenings include showing "Brotherly Love" at the Black Harvest Film Festival Aug. 3 through Aug. 30 and at the MVAAFF Run & Shoot Film Festival Aug. 8 through Aug. 11.
In September, Skinner will direct, co-star and choreograph fight scenes for the action sci-fi film "Alexus." He also will choreograph action and fight sequences for the television pilot/web series "Disavowed" directed by Brandon Heitkamp.
Skinner also is preparing to direct his first feature-length comedy, "Wing Man, Inc.," with producing partner and writer Tony Germinario, owner of Vincenzo Productions.
Skinner said he is keeping his head down and working hard.
"I only look up once the work is done," he said.