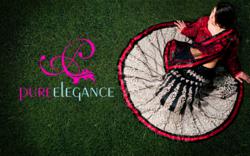 We are grateful that so many women from all over the world have liked what we have been doing.
New York, NY (PRWEB) June 28, 2012
Pure Elegance, a South-Asian women's fashion brand in US, accomplished a major milestone by attracting over 70,000 fans on its Facebook Page. This is a significant milestone for any ethnic fashion brand that is created outside of their home country.
"We are excited to reach this major milestone and truly thankful to all our loyal fans and clients for their continuing support," said Parna Ghose, Founder and Chief Designer of Pure Elegance. "This further underscores the great strides that Pure Elegance has made in touching the hearts and minds of modern South-Asian women worldwide."
Social-media has emerged as the key platform for modern women to plan and share their daily lives with friends and families. This is especially true for modern, educated, South-Asian women who are living abroad. They are also faced with a unique challenge of balancing trends with traditions. They are looking for new ways to make statement about their individuality through style that is readily acceptable socially, yet distinctly South-Asian in traditional values.
"Although we always had many loyal customers, we did not start our Facebook Fan Page until a little over a year ago. Today we have thousands of fans joining us each month from over one hundred countries. Modern South-Asian women, living anywhere in the world, can readily relate to our fashion that balances trends with traditions. We are grateful that so many women from all over the world have liked what we have been doing. Nothing satisfies us more than the great compliments we receive each day from our fans," said Parna Ghose.
As the Indian diaspora has grown in size and affluence, so have their needs. South-Asian fashion is distinct in its use of rich fabrics, vibrant colors, and centuries old tradition of intricate accent embroidery by master craftsmen. Pure Elegance is the only South-Asian fashion brand from US to be invited to major international fashion shows. Parna Ghose, Founder and Chief Designer of Pure Elegance, has dressed many celebrities, beauty-pageants, and international glamour girls and is among the regular guests at major community and social events in North-America. Parna Ghose made great strides in making ethnic fashion relevant among international audience.
About Pure Elegance
Pure Elegance is a fashion brand created by designer Parna Ghose. Pure Elegance takes pride in its ethnic roots, and creates a brand experience that is rich with cultural influences. It makes exquisite ethnic couture and ready-to-wear western designs for fashion-conscious women worldwide. The hallmark of their haute couture style is in its original designs, flawless craftsmanship, and innovative styling that brings out the individuality and exuberance through unique, unforgettable pieces. Since its inception, Pure Elegance has enjoyed huge loyal fan following and, with over 70,000 Fans on its Facebook page, it is one of the fastest growing brands for South-Asian fashion.