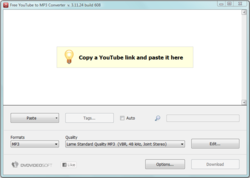 New York, NY (PRWEB) June 30, 2012
DVDVideoSoft does not rest on its laurels and constantly develops its programs by improving their interface, adding new features, etc. Today the company releases updated Free YouTube Downloader with a new feature to save new types of music collections – YouTube Top 100, Billboard Hot 100, Daily 100.
Now YouTube software by DVDVideoSoft downloads the whole list of video collections available on YouTube: complete playlists and show lists, users' channels, all videos from personal playlists (History, Liked, Favorites, Watch later, etc.), artist's playlists, videos from Movies Category, videos from Music Category, videos from YouTube charts, video responses, etc. There is no comparable analogue which downloads and converts so many types of playlists in the Web.
Free YouTube Downloader combines basic downloading options and advanced functions. The program detects all types of quality available on YouTube for every video and lets users select the ones they would like to download. Moreover, it is able to save and load links from external text files, save download history, import videos to iTunes automatically and customize output name easily.
In the forthcoming releases DVDVideoSoft intends to build in special Google Chrome plug-ins for Free YouTube Downloader and Free YouTube to MP3 Converter. Then users will be able to download/convert any YouTube video directly from the browser window without copy-pasting.
Free YouTube Downloader as well as all Free Studio suite can be downloaded directly from the company's site http://www.dvdvideosoft.com.
About DVDVideoSoft:
DVDVideoSoft (http://www.dvdvideosoft.com) is an independent developer of multimedia software programs for video and audio processing. The company was founded in 2006 as an affiliate distributing paid software. Today DVDVideoSoft offers 47 applications which are functional and intuitive to use, writes step-by-step instructions on how to solve different multimedia tasks with the help of its programs and, if necessary, provides free comprehensive support in English, German, French, Spanish, Italian, Russian, Chinese and Japanese. The amount of everyday visitors to http://www.dvdvideosoft.com is constantly growing and today reaches 350,000.