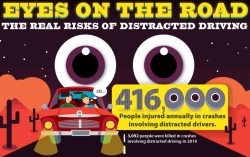 Irvine, CA (PRWEB) June 28, 2012
Automotive research website zAutos.com recently debuted "Eyes on the Road: The Real Risks of Distracted Driving," an infographic that explores the risks drivers take when they let their focus linger off the road for even a moment. While it may be tempting to send a quick text or read an important email behind the wheel, distracted drivers often put themselves and others on the road in extreme danger.
According to recent data, sending or receiving a text takes a driver's eyes off the road for an average of 4.6 seconds. This is the equivalent of driving the length of an entire football field blind at 55 mph.
However, distracted driving is not limited to our cell phones. Hands-free communication devices also come with risks, and drivers can be distracted by simple activities such as eating and drinking, talking to passengers, or adjusting the radio. The infographic shows the dangers of these behaviors and provides tips for drivers on how to avoid the temptation to drive distracted on the road. It also points out which states have passed laws forbidding drivers from engaging in certain distracted driving behaviors.
Distracted driving has made national headlines in recent months, as federal regulators have called it a "national epidemic." For the latest news on these auto safety trends and other developments in the auto industry, visit the "Auto News" tab on zAutos.com or follow zAutos on Facebook and Twitter.
zAutos.com also provides a wide variety of tools to help consumers kick start their research on a new car with thousands of automotive reviews, over 4,000 informative car videos, 10,000 vehicle eBrochures, and dealer quotes. The consumer auto research site also allows visitors to customize their own cars with the Build a Car application, while the new Car Concierge guides consumers directly through the process of finding a new car based on categories they value the most. Whether searching for a new car or getting caught up on auto news, zAutos.com is a consumer's go-to resource for automotive information on the web.