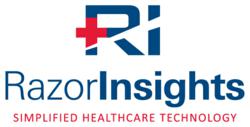 Kennesaw, GA (PRWEB) June 28, 2012
RazorInsights, a leading provider of fully-integrated IT solutions for Rural, Critical Access and Community hospitals, today announced its new webinar, Integration Matters: The Advantages of 'ONE' Database in Linking Inpatient & Outpatient Episodic Care in the Rural Community, being offered at multiple times in July.
This webinar, being presented by Kevin Rockholt, vice president of sales for RazorInsights, is intended for Administrators, IT Directors, CEOs, CIOs and CFOs from Rural, Critical Access and Community hospitals. It is intended to educate participants on the advantages of a single-database and its effect on efficiencies and transparency across the continuum of care. It will also provide a brief overview of RazorInsights and a short demonstration of ONE Enterprise HIS Solution.
"We're excited to be offering these upcoming webinars where we'll be demonstrating the benefits of leveraging a single-database EHR system," said Kevin. "Comprehensive Data Sharing, Linking Inpatient and Outpatient Care, and Easy Setup and Support will be some of the topics we'll be discussing."
Register for Integration Matters Webinar
About RazorInsights:
Based in Kennesaw, Georgia (in the metro Atlanta area), RazorInsights is dynamic healthcare information technology company. In keeping with the principle of Occams Razor, they have created a simplified HIS solution for Rural, Critical Access and Community hospitals. Introducing ONE (ONC-ATCB 2011/2012) — a single-database, cloud solution offering a simple user experience with cutting-edge clinical tools and industry-standardized data. Hospitals can expect to improve their performance and bottom line with ONE from RazorInsights. To register for a live product demo or for more information, visit RazorInsights.com or call 770-308-4111.