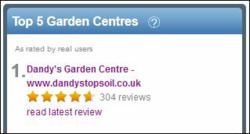 It's been absolutely fantastic to have received such a large number of great reviews in such a small amount of time.

Adam Dandy, MD
(PRWEB UK) 28 June 2012
Dandy's Topsoil began asking customers to leave reviews and feedback a couple of months ago; since then they have been overwhelmed with the response they've had from their customers.
Adam Dandy, MD commented: "It's been absolutely fantastic to have received such a large number of great reviews in such a small amount of time.
It's really helped us make improvements to our levels of customer service, our e-commerce website and has allowed us to really outshine the competition in our market.
We decided to join ReviewCentre.com as it's an independent website so our customers are free to leave real, honest feedback without influence and of course, it gives new buyers confidence when they are purchasing to know that are buying from a reputable, recommended supplier".
So far the company has racked up an impressive 304 reviews with 97.7% of those who voted saying they would recommend Dandy's to a friend and an over-all score of 4.6 out of 5 in a scoring system which rates range of products and over-all value.
Potential shoppers can read reviews about Dandy's over-all and about individual products such as their best-selling topsoil for lawns, top soil for growing organic vegetables and other gardening products like gravels, stone, bark and compost.
ABOUT DANDY'S:
Dandy's Topsoil began selling their gardening products online in 2004 when they were the first in the industry to sell topsoil. They remain UK market leaders in the top soil industry, producing new, innovative and bespoke blends each year.
Adam Dandy is an active member of the ITV Wales Business Club and was voted Flintshire Young Entrepreneur of the Year in 2011.
The company recently received funding from the Welsh Assembly Government to assist in new projects which will bring jobs and new business to North Wales.