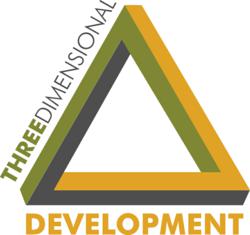 "The road to success is rarely a straight line"

Debbie Lindsey-Opel
Corpus Christi, TX (PRWEB) June 29, 2012
Debbie Lindsey-Opel, President of Three Dimensional Development, has developed a "toolkit" for learning to effectively assess and adapt. "The road to success is rarely a straight line," Lindsey-Opel said. "Building skills to effectively assess current realities and adapt to those realities informs action, activates relationships, and shortens the change curve."
Organizations of all kinds are experiencing change at an unprecedented pace. Not knowing how to assess and adapt to these changing situations is costing talent, time, and money. In January 2011, Supermarket News reported on a Center Store study that found that $23 billion of opportunity was lost by stores in their key grocery items. They suggested "the industry needs to focus on shopper demand....." Clearly, not listening to customers and adapting to their changing needs has a direct financial impact.
Organizations in the non-profit realm find their needs for assessing and changing equally important. A 2010 report by Convio, Edge Research, and Sea Change Strategies suggested "a question all charities must answer....how will they attract the next generation of donors...."
And, according to the July 2012 issue of Scientific America, the benefits of adapting are not just in business. The human ability of cooperatively evolving and adapting is "especially helpful because of the mechanism of indirect reciprocity, which is based on reputation and leads us to help those who help others."
The foundations in the "Adaptonomics Tool Kit" are based on human behavior and high performance models. The ability to master individual/organizational behavior activates understanding. Tying that understanding to high performance behaviors that benefit our stakeholders accelerates the net effect for a discernible enhancement in overall success.
Utilizing the Adaptonomics principles to accelerate the change curve, an organization can transform its thinking, moving from a position of frustration to one of achievement. Specifically, these tools examine key drivers that present themselves with specific "tells." That information establishes the framework for action that supports organizational success.
"Smart companies, organizations, and non-profits know that understanding their stakeholders and adapting messages, products, and delivery systems that better connect with them are vital to long-term success."
Debbie Lindsey-Opel is a accomplished entrepreneur, consultant, and platform speaker. As President of Three Dimensional Development, she has been engaged by a number of organizations in the private, public, and non-profit sectors.