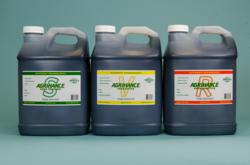 Agrihance is a three-step nutrient management program designed to promote growth from planting to harvest during key stages.
Louisville, Kentucky (PRWEB) June 29, 2012
Monty's Plant Food Company, manufacturer of plant and soil enhancement and specialty products for the agriculture industry, continues to expand its offerings. The company recently received trademark privileges from the United States Patent and Trademark Office for Agrihance®.
Agrihance, a line of nutrient management products, was introduced by Monty's last fall. The program features three products—Agrihance-S, -V and -R—to promote growth from planting to harvest during key growth stages.
"Agrihance is already proving to be very popular among our farmers and dealers," said Dennis Stephens, president, Monty's Plant Food Company. "It works on most crops, is easy to use and the name makes it easy to remember."
Agrihance-S is a seed starter that is designed to create the environment for rapid germination, seedling vigor, root development and stamina.
Agrihance-V is a foliar plant food designed to deliver readily available nutrients to your crop during the vegetative stage to increase vegetative growth and yield. Agrihance-V may also assist during stress periods increasing opportunities for maximized yields.
Agrihance-R is also a foliar plant food. It is designed to deliver nutrients to improve the maturation process during the reproductive stage, develop and maintain blooms, increase fruit set and grain development.
All Agrihance products offer Monty's signature Tank-Mix Flexibility™ and are compatible with most agricultural products, such as micronutrients, adjuvants, herbicides, pesticides and fungicides, for maximum crop management. They are based upon Monty's proven proprietary technologies and are specially formulated to assist crop growth at the various stages.
Founded in 1997, Monty's has experienced significant growth in agriculture boasting strong field trial results and testimonials from growers throughout the country. Monty's also offers plant and soil products for horticulture, lawn and garden and turf industries.
About Monty's Plant Food Company
Monty's Plant Food Company develops plant and soil solutions for growers around the world in the agriculture, horticulture, lawn and garden and turf industries. In each segment, Monty's offer products and protocols to address specific needs and challenges. Founded in 1997, the Louisville, Kentucky-based company's products are effective, environmentally sound and economically feasible. For more information about Monty's plant, soil and specialty products, visit http://www.montysplantfood.com or Facebook.com/MontysPlantFood.
###