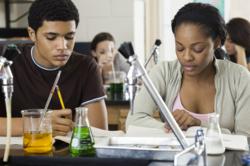 While we are relieved that the State avoided cutting science education in the budget, we know that our work is not over. Improving STEM education is fundamental for our students. - Chris Roe, CSLNet CEO
Sacramento, CA (PRWEB) June 28, 2012
The California STEM Learning Network(CSLNet) is applauding California Governor Jerry Brown for his decision to preserve funding for high school science in the budget he signed on Wednesday. The Governor had originally proposed to cut state funding for a second year of high school science, but his proposal faced significant opposition from a broad-based coalition concerned about the critical need for science education among California's students.
"More than ever, we need to invest in our children's future. We applaud the Governor for demonstrating that he understands that science education is key to our children's ability to compete and our state's reputation as the leading global innovator. All students need to have a solid foundation in these critical subjects in order to be able to compete in the 21st century economy. This is why our coalition spoke out so strongly on this issue," said Chris Roe, Chief Executive Officer of CSLNet.
Currently, California requires its students to complete two years of high school science to graduate. Most states require students to complete three years, and some even require four years.
While science education narrowly missed being a victim of the state budget crisis, education advocates and leaders – including the California STEM Learning Network and State Superintendent of Public Instruction Tom Torlakson – have been stepping up efforts to improve science, technology, engineering and math (STEM) education. In fact, California's participation in the development and expected 2013 adoption of the Next Generation Science Standards will help to ensure that California students have access to a world-class education in science and engineering.
"While we are relieved that the State avoided cutting science education in the budget, we know that our work is not over. Improving STEM education is fundamental for our students," said Roe.
According to the group Change the Equation, California employers currently report not being able to find enough qualified workers to fill STEM jobs. By 2018, California's STEM workforce is expected to grow by nearly 20%, twice the average of other jobs.
"Our education system needs to keep pace with this demand. To do otherwise, is to neglect the future of our students and of the economic vitality of the state as a whole," said Roe.