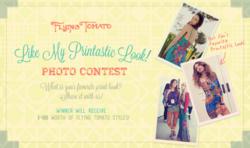 I couldn't care less about fashion. If I had taken any clothes home, they would have remained in my closet for the rest of their existence.
Los Angeles, CA (PRWEB) June 28, 2012
Summer's here – complete with the sun, the beach and all the fun you can have! If you are one of those people thinking how to spend their summer, you may want to spend it by capturing memories, including your most fashionable summer outfits, and in the end, getting free Flying Tomato stuffs from doing all that fun stuff. This is exactly what Flying Tomato has in mind when it launched its Printastic Look Contest, which is open to all its Facebook fans in the U.S., Canada and Puerto Rico.
"This is going to be a great chance to show up your pictures with fellow face book fans & let your friends know about your style," says Flying Tomato Retail Manager David Lee.
He adds, "Flying Tomato is celebrating official grand opening with the photo contest on our Facebook page and we are also giving away free messenger bags with any purchases while supplies last."
The Printastic Look Contest involves you taking a picture of yourself wearing your most favorite Flying Tomato or other brand's printastic look may it be that floral dress or that comfy yet stylish print shirts and bohemian look. People interested in joining the contest can send their entry once until July 5, 2012. The contest winner will be decided through most likes garnered in Flying Tomato's Facebook Page.
The winner of the contest will receive 400 U.S. Dollars of Flying Tomato clothing.
The winning look will be unveiled on Facebook on July 9, 2012.
Flying Tomato was launched in 2004 with the idea of offering vintage inspired bohemian clothing choices. Jay and Debbie started the clothing line as Salt & Pepper Clothing, Inc. in a 1,100 square feet store in Los Angeles, California and it has since then built 2 Los Angeles showrooms and a warehouse in Vernon, California. To know more about Flying Tomato and the Printastic Look Contest, visit their official website at http://www.FlyingTomato.com/.
You can find Flying Tomato's line in over 2,000 boutiques & department stores worldwide and on their website, http://www.flyingtomato.com.
For further information contact:
Email: blog(at)flyingtomato(dot)com