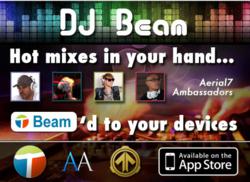 Los Angeles, CA (PRWEB) June 28, 2012
Web and mobile development company Digital Media Interactive announces the launch of DJ Beam for iOS, a hip new app on the mobile promotion platform Anywhere Artist, featuring Twonky™ Beam technology and DJ mixes from AERIAL7's Ambassadors.
Building on the complete music experience Anywhere Artist users enjoy on their iOS devices, which includes music, news, photos, video, and more, DJ Beam utilizes PacketVideo's Twonky™ Beam technology to stream music in the Anywhere Artist app directly to TVs and other media players connected to their home network.
"DJ Beam is the first of many Anywhere Artist apps that will give users the freedom to beam their favorite music between devices," said DMI CTO James Cahall. "We are thrilled to have the opportunity to use Twonky™ technology alongside the popular DJ music of AERIAL7's Ambassadors."
"As content becomes increasingly available in media apps we want everyone to have the ability to share through beaming. By integrating the Twonky™ Beam button into DJ Beam and the Anywhere Artist platform, we are making it easy for everyone to share content from one device to another," said PacketVideo CTO Osama Al-Shaykh.
DJ Beam showcases DJ music from AERIAL7's Ambassadors including: DJ Jam, DJ Neil Armstrong, Josh Madden, DJ JAYCEEOH, DJ Cheapshot, DJ EarwaxXx, DJ Butta, Cobraconda, Goldierocks, Heatesca, LDontheCut and Fuzz. AERIAL7 offers unique audio products for the art, music and street culture with a focus on fashion and function.
"Everything we do at AERIAL7 revolves around music. We are constantly working on innovative concepts to deliver the best music experience with our products. Anywhere Artist's music discovery features paired with Twonky™ Beam technology brings our DJ's mixes to the forefront of content-sharing, making sharing music between devices easier than ever," said Seth Egorin, founder and president of AERIAL7.
In addition to a worldwide debut on the App Store, DJ Beam will be introduced to tech-hungry fans and extreme sports enthusiasts at X Games Los Angeles 2012, where X Games sponsor Twonky™ will be promoting the new free app with extensive signage and loads of merchandise giveaways throughout the entire event from June 28 – July 1, 2012.
DJ Beam is available to download on the App Store:
http://itunes.apple.com/us/app/dj-beam-anywhere-artist/id534285971?ls=1&mt=8
See Anywhere Artist in action at:
http://anywhereartist.com
About Digital Media Interactive:
Digital Media Interactive (DMI) is an iOS and web development company that brings books to life, musicians to center stage and presents a world of possibilities for businesses to enter the mobile marketplace. DMI's founders James Cahall, Brendan Pollitz and Steven Hodge developed Anywhere Artist and have created award-winning app titles for children and developers alike that have reached hundreds of thousands of users. With over 30 years of combined professional experience, the DMI management team's background in engineering, production and marketing, together with a skilled team of developers, all combine to create a perfect storm for developing and growing in the digital marketplace. http://www.dmi1011.com
About PacketVideo:
Founded in 1998, PacketVideo is the software pioneer powering the world's leading multimedia services on millions of home and mobile devices. For more information, visit http://www.pv.com. Twonky (http://www.twonky.com) is PV's line of consumer software. PacketVideo was acquired by NTT DoCoMo in 2010.
About AERIAL7:
AERIAL7 was created in 2008 by three friends from different backgrounds who share a common vision for building unique audio products influenced by their passion for art, music, street culture, fashion and the active lifestyle that they live and breathe. Since AERIAL7 began, the team has strived to be at the forefront of merging fashion and technology, introducing unique materials, finishes, original wearing styles and impressive acoustics that redefines the headphone as a fashion accessory. Working with the constant feedback of AERIAL7's team of ambassadors from around the world, AERIAL7 products are constantly evolving, influencing and challenging the headphone market. AERIAL7 has quickly become a fast growing music lifestyle company with business headquarters in Los Angeles, a design center in Australia and distributors in over 60 countries. http://www.aerial7.com
# # #
MEDIA CONTACTS:
Sabrina Propper ▪ spropper(dot)rpipr(at)gmail(dot)com ▪ 818.515.5798
John Russel ▪ jrussel(at)russelprla(dot)com ▪ 818.561.5072