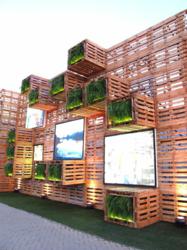 The striking construction elicited attention from designers and manufacturers around the world
Winnipeg, MB (PRWEB) June 29, 2012
From June 20 - 22, 2012 Rio de Janeiro was host to the 20 year follow-up of the UN Conference for Sustainable Development. Located outside the Riocentro Convention Centre, in the Parque dos Atletas, is the Rio de Janeiro state pavilion - 1 of 41 spaces hosting delegations from national governments made entirely of recycled used pallets, painted tires and television screens depicting Rio de Janeiro's work in sustainable agriculture. Winnipeg company St. Boniface Pallet says this was a prime example of how new products like theirs, new and recycled wood and wooden pallets, can cut costs and help make the world a much greener place.
Amid a mass of the simple white tents, the pallet pavilion was designed to encompass a theme and tone of the 2012 UN conference for sustainable development: turning new challenges into opportunities for unique infrastructure in the context of a green economy. The striking construction elicited attention from designers and manufacturers around the world, including St. Boniface Pallet, who applaud the creation as innovative.
Wooden pallets, flat transport structures predominantly used for supporting and shipping goods in a stable fashion, have historically been used for efficiently storing and handling items. However, the Rio pavilion gives 'efficiency' a whole new meaning. The striking pavilion establishes that beautiful structures can be created from simple, and sustainable materials.
"As a company that is focused on the efficiencies of recycling pallets in large volumes, I am always intrigued in the artistic ways that pallets are being used in modern design," says Rob Anderson of St. Boniface Pallet. Eco-friendly 'art-itecture' designs have emerged recently in the form of benches and coffee tables, but the pavilion has taken the trend up a notch. Anderson says he has grown accustomed to seeing pallets like the ones his company sells used in home design applications, and it's exciting to see where the trend will show up next.
"The Rio conference application is quite unusual as we are seeing pallets used in a fairly grand scale as a prominent part of an important conference. It will be interesting to see how other recycled wood products such as eco-friendly enviro mulch chips, or recycled crates and boxes become a part of this new design initiative, especially as the general public awareness of the cost savings of using these recycled materials becomes common knowledge," says Anderson.
St. Boniface Pallet is a full-service pallet, crate and wood recycling company. The Winnipeg company offers new and used pallets and skids, Canadian lumber, heat treated wood pallets and wood recycling services. Established in 1993, the company has grown its product and service offering immensely, turning it into a premier wood product and service company. To learn more visit http://www.StBPallet.com.