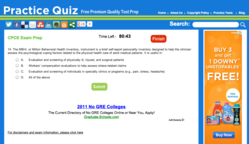 "In June, we've introduced a new practice quiz to our website each week."
Boston, MA (PRWEB) June 29, 2012
PracticeQuiz.com ends the month of June with a sustained period of rapid growth. Yesterday, the website revealed a new counseling practice quiz containing over 200 CPCE practice questions with detailed answer explanations and rationale.
"This has been an exciting month for us," says Ted Chan, founder of PracticeQuiz.com. "In June, we've introduced a new practice quiz to our website each week. In July, we expect to continue introducing at least one new exam each week as content becomes available."
The Counselor Preparation Comprehensive Exam (CPCE) is administered by over 320 colleges and universities across the country to assess students' knowledge and comprehension of vital counseling information as outlined by the National Board of Certified Counselors (NBCC).
The CPCE practice quiz by PracticeQuiz.com is designed to provide test-takers with a comprehensive overview of all exam topics. The practice quiz, which contains 200+ carefully-worded CPCE practice questions for aspiring counselors, includes core topics such as human growth and development, helping relationships, group work, career and lifestyle development, research and program evaluation, and more.
"Qualified teachers are in short supply, but what often gets overlooked is the supply of counselors in thousands of schools across the country," says Paul Chung, a PracticeQuiz.com product development assistant. "Preparing for the CPCE at your university is more important than ever before as the national demand for counselors increases into the next generation."
The CPCE practice questions are just the first step towards upsizing PracticeQuiz.com's professional exam offerings. "Some of our most popular exam titles to date have come from the professional category. We are confident that this premium free practice quiz will be popular among the counseling community," notes Chan.
PracticeQuiz.com is an online test preparation enterprise based in Boston. The website's social mission is to increase access to education by providing high-quality test preparation content for free. Follow PracticeQuiz.com on Twitter (@PracticeQuiz) for the latest news on exam updates and upcoming releases!