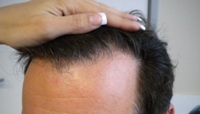 Beverly Hills, CA (PRWEB) June 30, 2012
Samson Hair Transplant announced today the opening of its newest hair transplant office in Beverly Hills, California, in conjunction with California Surgical Institute. Located at 9025 Wilshire Bl, Suite 411, in Beverly Hills, the office is on the premises of California Surgical Institute, a premiere plastic surgery practice.
"I'm very pleased with our new location in Beverly Hills and our association with California Surgical Institute," commented William McCullough, President of Samson Hair Restoration. "It allows us to help more people with hair loss in the Beverly Hills area with our exceptional and proprietary hair transplant procedures. Previously, patients had to travel to our Sherman Oaks office for procedures. Obviously, that was a less convenient arrangement for them," he added.
The office will be staffed with the same staff from the Samson headquarters office in Sherman Oaks. They will rotate between the two offices with a more limited schedule in the Newport Beach facility, initially.
"This was a logical step in our development as a company. We have developed a truly superb hair transplant procedure that produces what we believe are the most natural results in this industry. Hair loss sufferers have a wonderful way to address their problem. Now, we need to bring this service to more people. We intend to slowly add new locations to better accommodate the patients. And, people in Beverly Hills really don't want to go to the San Fernando Valley just to get this procedure done," explained McCullough.
About Samson
With offices in California, Samson Hair Transplant specializes in the treatment of hair loss in men and women with a particular emphasis on hair transplantation. The company has developed surgical innovations such as their Quadrian Hairline Technique that result in stunningly natural looking results. Further they have developed a proprietary anesthesia system known as the Pyllo Anesthesia System that insures their procedures are far more comfortable. Hair loss consultations at Samson are complimentary, and patients learn about all their options for treating hair loss.
For further details you may contact Tina Akhkashian at 800-309-8860.