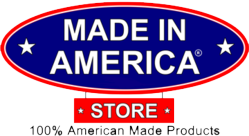 Elma, NY (PRWEB) June 29, 2012
July 4th is the nation's birthday and the United States celebrates by spending time with family and friends, remembering those who have made the ultimate sacrifice in our history and to proudly fly the red, white and blue. For those last minute shoppers who still need that American Flag T Shirt or an Air Force Branch Baseball Cap, the Made In America Store has you covered, always with the 100% made in US promise!
Consumers are starting to realize that buying products from China is sending American manufacturing jobs overseas. To combat this, the Made In America Store was opened to strictly sell 100% made in the USA products. What started as a small town store with 50 products has now expanded to over 3,700 products from over 300 vendors, all of which are 100% Made in the USA. This 4th of July the Made In America Store is your headquarters for 100% US made products to help celebrate our nation's birthday.
The Made In America Store has the shirts to show your true patriotism! Shirts range from having images of the United States of America to the American flag. To help beat the heat, the Made In America Store also sells muscles shirts and tank tops for both men and women, all of which have the red, white and blue represented on them.
Consumers looking for clothing from the Made In America Store can visit http://www.MadeInAmericaStore.com or call 716-652-4872 to talk to a Made In America Store representative to place an order.
Flags are also a hot item during the 4th of July Holiday Season, and what better way to show your patriotism than to fly the colors of the United States? The Made In America Store makes an effort to ask everyone to check and see where their flags from home were made, and to a lot of people's surprise, their flags are made overseas! The American flag is supposed to represent our nation as a whole. The nation's history, struggles and independence are all represented in the stars and stripes, not to mention the rich manufacturing past the United States used to have.
Consumers looking for a 100% American made American flag can click here!
Help bring the jobs back to the United States by pledging to be aware of where your products are made. By supporting local businesses, we can bring the thriving manufacturing jobs back to America!
The Made In America Store is located at 900 Maple Road in Elma, New York and is committed to selling 100% American manufactured products. You can visit http://www.MadeInAmericaStore.com for more information or shop our catalog of over 3,500 products from over 290 vendors that are devoted to producing USA made products. All US military personnel, both active duty and veterans, receive a discount every day. Consumers can also keep up to date news articles, events, photos and contests with Facebook, Twitter, Google+, Pinterest and Tumblr!