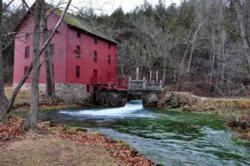 Portal, AZ (PRWEB) June 29, 2012
Ed and Sil Pembleton know a thing or two about the Ozarks. Both went to university in the area, majoring in biology, and the Ozarks served as their lab for fieldwork. "Geographically, we lived and worked on the tallgrass prairie / oak-hickory forest ecotone. Just a couple of hours away, we could explore clear Ozark streams nestled in the bottoms of those glorious 'hollers,'" recalls Ed. "On weekends, our professors sponsored an outing club for students so we camped, canoed, back packed and explored caves throughout the Ozarks. We carried out studies of Ozark glades, forests and streams as part of our classes."
After graduation, Ed and Sil married. They received a canoe as a wedding present from Sil's parents, and nothing could have been more appropriate. During one summer, the two biologists conducted bat research during the week, and canoed on weekends. "Our cave/bat research took us into Blanchard Caverns (part of the Naturalist Journeys tour in Arkansas) before the US Forest Service started planning and developing the cave for public visitation. In those days, we went in and came out on rope ladders and primitive climbing gear. Today's trip is far more comfortable, well lighted, accessed by simple walking, and less demanding," Ed explains.
When he went to work for the National Audubon Society in the 1980's, Missouri and Arkansas were part of his field office assignment and getting wilderness areas established in the National Forests of both states was part of his portfolio. Knowing that nothing beats first hand (and foot) knowledge, Ed made a priority of hiking and camping in all the areas that were proposed. After two pair of boots, countless miles, phone calls and trips to Washington DC--Missouri legislation protected one or two areas at a time with six areas protected in total. In adjacent areas of Arkansas, Audubon helped get a package passed, setting aside nine additional areas.
Twelve nature-loving travelers can join Ed and Sil in Naturalist Journeys' "Ozark Mountain Magic" tour, from October 21-28, 2012. Fall is the perfect time to explore the Ozarks; the summer crowds have dispersed and fall color blazes on the hills. In addition to colors, fall temperatures in the Ozarks provide cool evenings and delightful days. This is also harvest time and one generally celebrated as the season of plenty, making it fun to feast on local foods. Wildlife is more abundant and generally active after the long hot summers, while the less desirable arthropods (mosquitoes and ticks) are reduced in number. If participants are lucky, they may find a ripe paw paw patch--some say the best eating this side of the tropics.
Ed and Sil's life and work has taken them to Minnesota these days, but they look forward to returning to their roots, during this all-new Naturalist Journeys adventure, to explore glades and hollers, caves and rivers, local culture, and food. The week-long tour starts in St. Louis. Full details can be found on the Naturalist Journeys website.