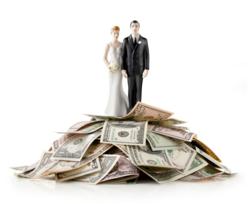 The new wedding coupons page helps to decrease financial stress caused by the high cost of wedding-related items, including the wedding dress, favors, invitations and gifts.
Santa Monica, California (PRWEB) June 29, 2012
When weddings are on the mind, scary price tags are not far behind. From the dress to the décor, favors and food, couples spend an average of $27,021 on the wedding day(1). Guests feel the financial burden, too, as the average American spends $1,000 on gifts, travel and accommodations to attend a wedding. To help alleviate costs this wedding season, coupon savings website PromotionalCodes.com announces a new page dedicated to wedding coupons and discounts. Couples and guests can now search the page for wedding savings from popular sites like The Knot, Red Envelope, Bed Bath and Beyond and Macy's, among others.
The new wedding coupons page helps to decrease financial stress caused by the high cost of wedding-related items, including the wedding dress, favors, invitations and gifts. To further relieve wedding-induced money woes, PromotionalCodes.com provides the following tips for celebrating well without going into debt during this summer's wedding season.
For the couple
Trim the guest list. This is one of the fastest ways to save cash, because it alleviates the strain on several areas of the wedding budget. Spending less on food, drinks, favors and rental tables/chairs will allow couples to allocate funds to other areas without going over budget. "Prioritize the wedding budget and leave room for unexpected expenses," says consumer savings expert for PromotionalCodes.com, Regina Novickis. "Having priorities in order allows couples to make better long-term financial decisions when faced with the small details that go into planning a wedding."
Send e-vites. Creating a digital save-the-date or RSVP method is an easy way to save hundreds of dollars in printing costs without having to go completely digital. Couples can also send paper invites to the less tech-savvy guests, and digital invites to everyone else. Several e-vite websites offer free designs and save-the-dates with functions that track RSVP's automatically—which also saves time spent organizing the guest list.
Strategize the honeymoon. When it comes to travel, the savings is in the strategy. Comparison shop between travel websites, consider an off-season locale, book online and apply coupons on top of sales. Look for travel discounts and coupons on flights, hotels, cruises and vacation packages with sites like PromotionalCodes.com and CouponWinner.com. Applying coupons on top of travel sales can save couples thousands of dollars on honeymoon expenses.
For the wedding party and guests
Negotiate the outfit. If the cost of a bridesmaid dress or tuxedo is too high, try to work with the bride or groom to find a less expensive option. Research similar colors and themes, and present them to the couple. "Facing credit card debt over a bridal party outfit is not worth keeping quiet," Novickis says. "If a different dress or suit is out of the question, see if it's an option to purchase your own shoes and accessories within a certain theme or color."
Buddy up. Split a hotel room with others to cut down on lodging costs for the wedding and bachelor/bachelorette parties. Also find other guests to pool money together for one big gift—and consider buying all the shower, bachelor/bachelorette party and wedding gifts at the same time. A larger gift purchase may qualify for a better discount or online deal, which is better for everyone's bank accounts.
Barter skills. In lieu of a traditional gift, consider offering to help the bride and groom with a skill or service; it could be photographing the couple for engagement sessions, designing invitations or creating baked goods for a dessert bar. Novickis says, "Sharing skills instead of a traditional gift is becoming increasingly popular. Not only does it help out the guest on a budget, but it can also make for a more personal wedding for the couple."
With a little strategy and savvy shopping, wedding couples and their guests can easily beat the spending game and enjoy summer nuptials without financial stress.
About PromotionalCodes.com
PromotionalCodes.com is a coupon savings website that provides thousands of free online coupons and promotional codes from top brand names like Macy's, Target, Home Depot, Travelocity, Dell and many more. The site is developed by Santa Monica-based SurfMyAds.com, Inc., which also owns and operates Coupons.ca, Codes.co.uk, Codes.de, CouponWinner.com, PromoCodes.com, SexyLingerie.com, and myShoes.com, a shoe shopping website. The company has also ventured into the world of online production via ShoesTV. For more information, visit SurfMyAds.com.
(1) "TheKnot.com and WeddingChannel.com Announce New Wedding Statistics – Including Average Wedding Budget and Top Wedding Trends," 2011 Real Weddings Survey by TheKnot.com and WeddingChannel.com, Mar. 21, 2012.