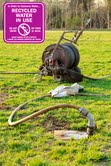 "Our mission at RecycleReminders is to provide aids to improve the environment," said Cole Paulson, Manager at RecycleReminders.com. "The new Recycled Water Signs call attention to the necessity of recycled water to conserve natural resources."
Brooklyn, New York (PRWEB) June 29, 2012
RecycleReminders.com, the leading online retailer for recycled signs and labels, is announcing the launch of new recycled water signs. The signs are visible ways to indicate areas with recycled water and warn others not to drink it.
The use of reclaimed water has become more popular and urgent in recent years. A Nytimes.com article focused on how the frequency of droughts in Texas required a need for reclaimed water, less inexpensive than potable water, in Fort Worth. At a Fort Worth Plant in Arlington, each unit of water costs about 40 percent less than conventional potable water.
Recycled Water Signs have a purple background with white font to captivate attention. The signs clearly indicate designated areas where recycled water is in use. The signs make it very clear that the water should not be consumed. Signs with bilingual text are also available for people who speak languages other than English. Sign options include water prohibition symbols or flower graphics to add some interior decor.
The new signs are part of a variety of recycled water warning signs. The standard "Danger" and "Caution" signs point out areas with non-potable water unsafe for drinking or cooking. Custom templates are a way to personalize the signs according to the individual company. Simply add text or change its look, upload a logo or artwork, or have it tweaked by a professional at no extra charge.
The signs are made from thick plastic, durable aluminum, or laminated vinyl. The signs also come as free PDF versions for a more portable download. "Our mission at RecycleReminders is to provide aids to improve the environment," said Cole Paulson, Manager at RecycleReminders.com. "The new Recycled Water Signs call attention to the necessity of recycled water to conserve natural resources."
For more information about recycling signs, check out http://www.recyclereminders.com/.
About RecycleReminders
RecycleReminders provides an impressive selection of recycling labels, signs, and decals. The easy customization wizards encourage a personal touch. Banners, stencils and free PDF downloads are also a part of the inventory.
About SmartSign
SmartSign is one of America's fastest growing e-commerce companies and parent of http://www.RecycleReminders.com, http://www.MyParkingSign.com, as well as more than 50 other sites.
Traditionally, signs with the right message have been hard to find, hard to design and hard to order. By positioning signs as solutions, SmartSign has taken an entirely different approach. Through highly targeted, yet content-rich and authoritative sites, the company provides specific solutions to specific problems such as finding the right recycling sign. Couple this with fast and free shipping, 3M warrantied signs that outlast fast-fading ink jet signs from competitors, the Web's largest range of designs and a best price guarantee, it is easy to see why SmartSign has grown so quickly.