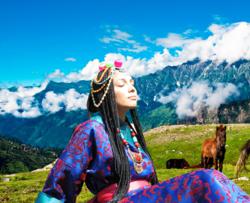 Not all ingredients are the same. We have dedicated extensive research and resources into finding the purest and strongest source of herbs and plants.
Irvine, CA (PRWEB) June 29, 2012
A recent study conducted by Tangut USA Corporation shows that more than 75 percent of those surveyed would likely be influenced by purity of source when making their purchasing decision of health supplements. The survey was conducted by a small study group of health conscious buyers.
Tangut, a manufacturer of natural health products, has long focused its efforts on discovering the purest possible plant source. After 20 years of research in the health industry, the company identified the Tibetan Plateau as the purest region in the world capable of growing fruits and plants rich in nutritional value, and has since developed a state-of-the-art manufacturing and research facility in this area.
"Not all ingredients are the same. We have dedicated extensive research and resources into finding the purest and strongest source of herbs and plants," said Diana Yuen, CEO of Tangut USA.
About Tibet
The Tibetan Plateau is often referred to as "the Roof of the World" and is the highest and largest plateau in the world. With its vast land and sparse population, the region is known for its uncontaminated ecosystems and natural growth of organisms. More than an estimated 965,000 square miles are free from industrial pollution.
In fact, it is the only pollution-free region in the world as recognized by UNESCO that is capable of growing such a multitude of living species. To date, about 13,000 vascular plants and 1,200 species of vertebrates have been identified and a record 1,000 of them have been estimated to possess established medicinal properties.
Adaptive Ability
Plants that grow in this region are forced to adapt to extreme cold, extreme heat, the lack of oxygen and intense ultraviolet radiation. As a result, Tibetan plants naturally synthesize an abundant amount of bioactive compounds to develop physical durability and stress resistance. They also acquire special characteristics such as an anti-UV capability.
Optimal Sunlight
The extended brightness and long durations of sunshine in the high-altitude plateau maximizes the photosynthesis process during the day and allows plants in this region to naturally develop more nutrients and the low temperatures at night reduce plant respiration and consumption of energy, locking the nutrients inside the plant body.
Medicinal Value
A large concentration of carbohydrates, proteins and fats help these plants resist the wind and cold. A high level of vitamins and minerals enables them to maintain normal metabolisms in hypoxia and drought conditions, while a wide range of flavonoids and phenolic acids protects them from heavy ultraviolet light.
Purest and Strongest
Tangut claims that its raw ingredients, including sea buckthorn, resveratrol, quercetin, goji, and cistanche, are of the highest quality and potency because it is derived from the strongest and purest plant source in the Tibetan Plateau. Tangut's unique formulations, found in its Resvene, Sea Berry Essence and Sea Berry CardioMed products, stem from extensive research and clinical trials conducted in partnership with local universities in Tibet.
Tangut believes that its pure source and research and manufacturing facilities uniquely located inside the Tibetan Plateau is a major point of differentiation when compared to other similar products. Health supplement buyers in this survey seemed to agree. Tangut has developed a Tibetan Plant logo and 100% Organic Certified Farm logo on its packaging to highlight this strong point. Tangut hopes that as more and more health conscious consumers examine the origin of the ingredients in their supplements and what affects it has on their body, having the purest source in the world would provide a competitive advantage.
About Tangut USA Corporation
Tangut Corporation is a pharmaceutical-based company that combines the best of nature with the best of science to develop new, innovative products for the health industry. Tangut's unique line of natural products is clinically-proven and is made with bioactive ingredients drawn from the purest organic source in the world – the pollution-free Tibetan Plateau. Its award-winning experts in research and development are recognized worldwide and share the Tangut belief of using creative and sustainable solutions to face today's health challenges and discover new opportunities for tomorrow.
For more information about Tangut USA please call 949-529-2829 or visit http://www.tangutusa.com.