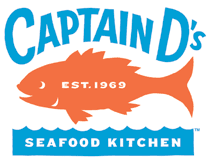 NASHVILLE (PRWEB) June 29, 2012
Captain D's successful turnaround and brand rejuvenation has continued through 2012. With 527 locations throughout the United States, the restaurant leader in the fast casual seafood segment produced a Second Quarter 8.5 percent same-store sales increase in company restaurants - its second consecutive quarter generating an 8.5 percent increase - and a 7.3 percent increase in franchised restaurants.
"Our continued brand success is attributable to our entire talented organization creatively fulfilling D's corporate value of providing our guests with an everyday excellent dining experience. Our commitment to our guests – in everything we do - has elevated both our guest experience and our brand," said Phil Greifeld, CEO and President of Captain D's.
Captain D's continues to build upon its success that began in 2011, when the seafood chain produced its first system-wide same-store sales increase in eight years. Under new leadership, the brand has been systematically rejuvenated with upgraded field and corporate talent, investments in new and core menu items, investments in new restaurant equipment, a re-engineered operating line and the development of fresh new facility décor and designs that will be unveiled later this year.
In addition to its sales success, Captain D's has recently begun new restaurant development through franchising. Just recently, the brand announced the signing of its first Market Development Agreement in over six years for the development of three D's restaurants in Mississippi and Northwest Alabama.
"We have a uniquely positioned brand, one with solid unit economics and considerable upside potential," said Greifeld. "D's will continue to reach new levels of success in the coming year and in the years ahead."
ABOUT CAPTAIN D'S
Headquartered in Nashville, Tennessee, Captain D's owns, operates and franchises 527 restaurants in 25 states, plus military bases around the world. Captain D's offers its customers great seafood at reasonable prices in a relaxed environment. Captain D's restaurants serve a widely varied seafood menu that includes freshly prepared entrees, and the company's signature hand-battered fish which is prepared to order to ensure freshness. The restaurants also offer premium-quality grilled fish, as well as shrimp, chicken, shrimp & beef kabobs, hushpuppies, desserts and freshly brewed, southern style sweet tea, a Captain D's favorite. Please visit http://www.captainds.com.
###