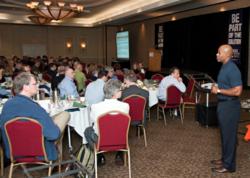 Sometimes we lose sight of what's important. Winning football games is great but not as important as shaping young men who will one day be husbands, dads and community leaders.
Appleton, WI (PRWEB) June 29, 2012
The third annual Fox Valley Voices of Men Breakfast drew an audience of more than 400 on June 13 – a sign that the organization dedicated to changing male attitudes that contribute to the abuse of women and girls has taken root here in Northeast Wisconsin, with young men helping to lead the way.
"It is exciting to see all the new men and teens join this movement," said Shannon Kenevan, Voices of Men president. "We are trying to shift our culture to one of respect and compassion, and cultural shifts need a critical mass of people to happen. When a man joins our movement, and makes a conscious decision to live a life of respect and caring, we get one step closer to creating a society that truly values girls, women and all people."
Since 2010, more than 1,000 men have come to the breakfasts, with most taking the pledge to "not commit, condone or remain silent about men's violence against women." The organization has made a concerted effort to reach teens, and this year, nearly 200 football players from area high schools attended.
"Teens have a lot of power in the here and now to influence their peer group," Kenevan said. "If we can raise their awareness about the attitudes and behaviors that they have been conditioned to have, and help them evaluate and change the attitudes and behaviors that are hurtful, we can make great progress instantly to creating a safer world."
Pat Schwanke, head football coach at Appleton East, brought 45 varsity players and coaches to the breakfast. He said education about domestic and sexual violence is important now and cited issues that crop up in high school relating to how boys view and behave toward girls. If boys can break out of the "man box" by challenging some of the traditional images of manhood such as real men don't cry, or don't wear pink before they go out into the community, "The better men they will become," Schwanke explained.
Coaches have a golden opportunity to mentor young men in a positive direction, he said. "Sometimes we lose sight of what's important. Winning football games is great but not as important as shaping young men who will one day be husbands, dads and community leaders." Schwanke has already noticed teens rethinking certain attitudes.
East senior, Isaac Pflum, 18, was a first-time attendee of the breakfast. He said the speakers made him reevaluate some of the ways many boys are programmed to think and act. "I'm a guy and guys always joke around and make comments like 'You hit like a girl,' or people call each other 'Sally.' That's stuff we could cut out." Pflum said, "It's not a big deal but it's really not funny and needs to stop. Every time it happens now we tell them to knock it off."
Among the breakfast's featured speakers was Ted Bunch, co-founder of "A Call to Men," a national men's organization instrumental in advocating for men to take a stand against violence. Event sponsors included several major Fox Valley employers and community foundations. Dean Gruner, ThedaCare president/CEO asked the audience to take a long, hard look at society and themselves and "identify those subtle attitudes and behaviors that demean women and girls that have been instilled in us since birth" and "send the message that women are worth less than men." Gruner added, "It starts with an awareness and a sense that you want to be different and treat people the right way and then moves toward action over time."
National research shows that one in every four women will experience domestic violence or some form of sexual assault at some point in her life. In 2011, the Harbor House shelter program of Appleton experienced its busiest year ever with a 28 percent increase in the amount of people seeking emergency shelter. The nearby Sexual Assault Crisis Center served 186 women.
Voices of Men, a 2011 recipient of the Voices of Courage Award from the Wisconsin Coalition Against Sexual Assault, has led training sessions for athletic coaches, recruited men to mentor young boys and publicly responded to community crises involving violence toward women and girls. It has also organized workplace education sessions and supported agency fundraising and awareness events related to the topic. To learn more, visit http://www.voicesofmen.com.