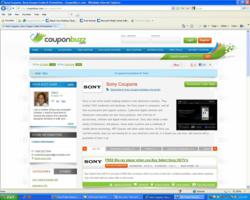 This particular offer for a free Blu-Ray player is particularly nice because it's a guilt-free way of indulging yourself…
Houston, TX (PRWEB) June 29, 2012
Interested in purchasing a brand-new high definition flat panel television to create the perfect home cinema? Online shoppers are flocking to CouponBuzz.com to find great deals on these high ticket items. For example, a new Sony coupon highlighted today on CouponBuzz.com features an offer for a free 3D Blu-Ray player with a purchase of select Sony HDTVs. For consumers interested in investing in a state of the art entertainment system, a high-end Blu-ray player is an essential component to ensure that every film does justice to the fantastic Sony viewing experience.
"We always have some really interesting special offers from Sony available in their dedicated coupon section," explained Justin Bowen, CEO of CouponBuzz.com. "This particular offer for a free Blu-Ray player is particularly nice because it's a guilt-free way of indulging yourself in cutting edge extras when you're already laying out the cash for a new HDTV."
Online shoppers can click here to see which HDTVs qualify for this particular Sony coupon and the free Blu-Ray player. Every model that is part of the special includes full HD 1080p in 2D and 3D. LED Backlighting enhances picture quality still further, and depending on user preference, some of the HDTVs offer access to the Sony Entertainment Network. For those action movie fans, Motionflow™ XR 960 enhances the blurred images so often seen in fast-action scenes. Every model included in the offer also comes standard with built-in wi-fi, which connects users to the internet for live streaming and incredibly simple data transfer, as well as movie and television episode downloads. And, of course, showing off the latest vacation photos to admiring family and friends. Did we mention larger-than-life Skype video calling?
The Sony coupon for a free Blu-Ray player with purchase of a Sony HDTV is located in CouponBuzz.com's recently launched section dedicated to special offers and coupon codes from Sony. The link to the offer is highly ranked by the CouponBuzz.com Buzz Guide who vetted it, and shows up near the top of the following page http://couponbuzz.com/sony-coupons.html.