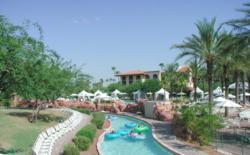 Gilbert, Arizona (PRWEB) June 30, 2012
As the summer is hitting its peak here in Arizona with sweltering 112 degree days, children are out full force in all the splash pads and swimming pools trying their best to keep cool and entertained. Summer safety is a big concern in Arizona and here at Southwestern Pediatrics Gilbert. It is important to remind children and their parents of the importance of sun protection and sunscreen. The Food and Drug Administration is now coming out with new regulations in terms of the adequate labeling of sunscreens on the market. These changes are to help reflect and educate consumers on how to choose and adequately use sunscreens. The final guidelines will be officially in effect December 17th 2012, extended from the former deadline of June 18, 2012 to allow for sunscreens to be on the shelves so the public can protect themselves for the summer.
In terms of sun exposure we deal with two major kinds, UVA and UVB wavelengths from the sun. UVA wavelengths cause immediate tanning and affect our deeper skin called the dermis. This is where the blood vessels are damaged and aging of the skin and loss of elasticity happens. UVB rays are responsible for sunburn and increasing the melanin (pigment cells) in our skin. This damage has its cumulative affect up to 24 hours after exposure and is responsible for the development of skin cancers called melanomas.
Sunscreens must protect against both kinds of wavelengths and the FDA regulation will reflect the need for sunscreen products to show that they do protect against both wavelengths using the term "Broad Spectrum." The other important information on the sunscreen bottle is what Sun Protection Factor or SPF it contains. The SPF is the ratio of the minimum amount of time that is needed to cause skin redness with sunscreen versus the minimum amount of time needed to redden the skin without sunscreen. Therefore, the more the SPF the more time it will take to redden the skin with sun exposure. The FDA recommends that all must use a minimum of SPF 15 in order to get adequate protection against the sun. Studies have shown that SPF fewer than 15 and above 50 has no benefit or extra benefit on the higher end. Overall sunscreen between 15 and 50 should be used. The FDA regulations will state that sunscreen will list the higher end SPF as on 50+. Take the time to make sure the sunscreen purchased states that it is broad spectrum and above SPF of 15.
Make sure that sunscreen is not the only thing used to protect from sun exposure. Try not to go out in the sun for prolonged periods between 10am and 2pm as the exposure is worst in those times. Wear protective clothing, long sleeves, shirts or bathing suits with UV protection and large brimmed hats. Reapply sunscreen every 2 hours and be more diligent if you are getting wet or sweating a lot.
Remember this applies not only to lighter skins individuals but also darker skinned people, as the risk of melanoma is higher in the darker pigmented population. For more information about sunscreen and sun protection, go to FDA.gov for consumers.
Get out there this summer and have fun, find a great public pool near by here in Gilbert. Come on in and see us at Southwestern Pediatrics Gilbert if there are any questions or concerns about your child's sun exposure.
Southwestern Pediatrics Gilbert is located in the Spectrum Falls plaza at the intersection of Williams Field Rd and Val Vista Drive. We accept most insurances and have a self pay and payment plan options available. Make us your child's medical home...2730 S. Val Vista Dr. Suite 161, Gilbert AZ 85295. 480-857-6316