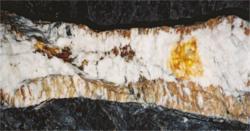 Vancouver, BC (PRWEB) June 29, 2012
It's coincidental timing in Barkerville Gold Mines announcing a 10.6 million ounce indicated gold resource estimate with a 81-90 million ounce geological gold potential, as this August marks the 150th anniversary of Billy Barker's historic Gold discovery sparking the entire British Columbian Gold rush in the late 1800's. - (Financial Press)
Barker's discovery was so significant that not only did it inspire the entire Gold rush to the region but subsequently became the reason for building the railway through the Rockies allowing BC to become accessible and ultimately, becoming a Canadian Province.
The Vancouver Based company has been following in Billy Barker's footsteps and is currently in the process of beginning full scale gold production in the Barkerville region, once again firing up a gold rush for miners and now for investors.
The Cariboo Gold Project owned by Barkerville Gold Mines is nothing short of world class as per the news release issued by the company today. Barkerville has redefined the size of the gold deposits on its property and has likely far exceeded all expectations of investors and analysts.
The resource estimate and geological potential is incredible in both size and grade and could now be classified as one of the largest potential gold producing regions in the Country.
Barkerville's President and CEO J. Frank Callaghan stated
"This resource estimate on only 10% of the company's prospective gold belt, which I believe puts the Cariboo Gold Project into the world class category, coupled with the company's recent news announcing it has received the necessary permits to begin production on its Bonanza Ledge discovery, is a testament to the team we've assembled and 18 years of hard work and perseverance. The current resource estimate has been made possible through the compilation of over 7,100 drill holes totaling 347,000 meters completed by the company and previous operators, with the most significant results coming from an expanded drill program which was completed in December, 2011."
"Management received heavy opposition to the expanded drill program this past winter from the brokerage community as reflected in Barkerville's share price, but we believed strongly in our team of highly skilled geological professionals and are proud of the results the company has achieved."
Cow Mountain Indicated Resource Estimate
The indicated resources estimated by Geoex for the Gold Quartz (on Cow Mountain) open pit model are 69,039,000 tonnes with an average grade of 0.154 ounces gold per ton and 10,626,100 ounces of contained gold
Total Geological Potential of the Island Mountain, Cow Mountain and Barkerville Trend
The total geological potential is 558 to 684 million tons grading 0.12 to 0.16 ounces per ton, with contained gold of 81 to 90 million ounces.
This is contained on the 6.4 km Island Mountain, Cow Mountain and Barkerville Mountain trend, which is the central portion (where the Company has focused its exploration activities) of a larger 67 km trend on the Company's 1,118 sq. km property.
On June 21, 2012 Barkerville announced it had received all environmental permits necessary for it to go ahead with mine development at the Bonanza Ledge project on Barkerville Mountain. The company also received all permits necessary to resume operations at its QR Mill which contains all the milling operations necessary to produce gold from the Bonanza Ledge Mine.
This couldn't be happening at a better time for the residents of the rural community. The region, hard hit by losses in forestry due to the mountain pine beetle epidemic, will benefit as the QR mill will benefit from these future jobs.
Quote from Rich Coleman, Minister of Energy and Mines
"Mineral exploration and mining are booming and we are working to ensure our mining industry remains well positioned to create opportunities. More than 29,000 people were employed last year in mining, mostly in rural locations, providing well paying jobs that benefit families across the province."
Barkerville Gold Mines has a total market value of approximately $65 million, is fully permitted to put its Bonanza Ledge mine into production, and is targeting the expansion of its already sizeable gold resource at its Cariboo project in the months ahead.
Learn more at Barkerville Gold Mines website http://www.barkervillegold.com
Legal Disclaimer/Disclosure: A fee has been paid for the production and distribution of this Report. This document is not and should not be construed as an offer to sell or the solicitation of an offer to purchase or subscribe for any investment. No information in this article should be construed as individualized investment advice. A licensed financial advisor should be consulted prior to making any investment decision. Financial Press makes no guarantee, representation or warranty and accepts no responsibility or liability as to its accuracy or completeness. Expressions of opinion are those of the author's only and are subject to change without notice. Financial Press assumes no warranty, liability or guarantee for the current relevance, correctness or completeness of any information provided within this article and will not be held liable for the consequence of reliance upon any opinion or statement contained herein or any omission. Furthermore, we assume no liability for any direct or indirect loss or damage or, in particular, for lost profit, which you may incur as a result of the use and existence of the information, provided within this article.