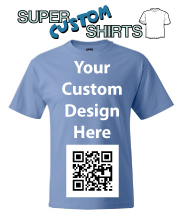 I'm sure that was one custom event t-shirt that people are still wearing proudly.
San Diego, CA. (PRWEB) June 29, 2012
Custom t-shirts are one of the most common accessories to any event in any industry. From charitable fundraisers to trade shows, concerts to sporting events, experienced event organizers know that attendees love to receive some kind of free gift and seeing a sea of event goers all wearing the same shirts creates an event-wide sense of unity that is simply magical.
Beyond the day of the event, custom logo t-shirts that people choose to wear around town can provide an incredible viral marketing effect. They can raise awareness of issues, future events, and get more people involved. However, all of these potential benefits are for naught if the t-shirt design doesn't meet the fashion standards of the people who receive them. In order to help event organizers ensure maximum benefit and appreciation of these wonderful gifts, and to help these gifts become a potential source of additional revenue rather than another expense, SuperCustomShirts.com offers 3 tips that have proven to be a winning formula for custom event t-shirts.
1. Consider A Design That Ties Your Event To A Larger Theme
Perhaps the most critical step in the process of creating custom event t-shirts is to get yourself in the mindset that this is not a marketing piece, but rather a fashion accessory. In the end, if the shirts are just about the name of the event and the companies who sponsored it, you will be lucky if they end up in the pajama drawer.
However, if the shirts are able to combine an aesthetically pleasing design that also serves as a subtle reminder of the event, then they are much more likely to be worn proudly. "You should ask yourself, what is the greater cause that brings these event goers together?" says Ron Hall, Co-Owner of SuperCustomShirts.com. "How can that central theme be eluded to visually? What motivates your attendees today that they will also be proud to have been a part of when they look back? Can you distill the purpose of the event into it's pure essence in a visual way? Those are the questions that will put you on the right path."
2. Focus On Quality Art
What sort of images are currently being associated with marketing campaigns from the most successful brands within your industry? These can be clear indicators of current trends as they relate to art and fashion. By finding a few different fine art pieces that typically goes over well with people in the demographic of your audience, you can quickly create a style guide. The next step is to create 2-3 illustrations that combine the theme you identified in step 1 with the styles from step 2. "Remember that t-shirt designs are best when kept very simple," says Hall. "Complicated color palettes or lots of fine lines typically don't translate well to cotton t-shirts, whereas silhouettes and stencil type designs do."
3. Sell Sponsorships That Incorporate Into The Design
Perhaps one of the most important considerations in creating event t-shirts is ensuring that they are able to generate enough revenue to pay for themselves, and hopefully more. However, because these custom event t-shirts are almost always giveaways, the only way to accomplish this is to sell sponsorships where company logos will be printed all over the shirt.
"If there is one thing that really ruins an event t-shirt, it's poorly placed sponsor logos," says Hall. "Instead of simply putting them next to the design, or on the sleeve as a clearly awkward afterthought, try finding clever ways to incorporate them into the design. For instance, if your design has city buildings, have sponsor logos be signs on the buildings. If your design has a forest of trees, have the logos stamped into each tree. If the design has clouds, or a flock of birds or a crowd of people, put the logos on individual figures in the design. One of the coolest event t-shirt designs we've seen in a while was for a technology conference where company logos were connected through a circuit board that was slightly tilted and went all the way across the top half of the front of the shirt. I'm sure that was one custom event t-shirt that people are still wearing proudly."
In the end, selling t-shirt sponsorships to the companies that are exhibiting at an event is a great way to generate some additional revenue and give event attendees a great keepsake. Especially if it is one that they will enjoy for years to come.
SuperCustomShirts.com offers a wide selection of customizable clothing. For more information on creating custom printed event t-shirts, visit SuperCustomShirts.com