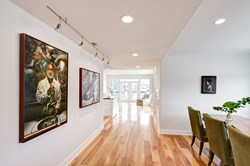 'There were some real Huck Finn moments,' co-designer Kevin Fischer joked. 'At one point we pulled up the floors in the bathroom and saw a fish.'
Portland, OR (PRWEB) June 29, 2012
Portland remodeler and builder Hammer & Hand announced completion today of a Columbia River floating home remodel that created a modernist live-in gallery for its art collector/client. Designers Kevin Fisher of Alice Design and Charlotte Cooney of Domestic Arts collaborated with client and builder on the floating, whole house remodel.
The project presented unique opportunities and challenges for the team. "There were some real Huck Finn moments," Fischer joked. "At one point we pulled up the floors in the bathroom and saw a fish."
Hammer & Hand project manager Kevin Guinn concurred. "To ensure that the client's newly remodeled space was comfortable and energy efficient we needed to seal and insulate the floating home's attic. But the house was floating well offshore of Hayden Island," said Guinn. "We literally lifted the spray foam trailer onto a barge and paddled it to the site."
While many aspects of remodeling a floating home were new to the carpenters at Hammer & Hand – like deploying dozens of 50-gallon water-filled barrels as ballast to balance the home and its floating foundation throughout the project – much of the experience played to the strengths of the team.
Marinas of floating homes are close-knit and closely spaced, much like the remodels in Pearl District condominium communities that Hammer & Hand is accustomed to. Noise and disturbance are, understandably, serious concerns. With Hammer & Hand's background in performing "surgical strike" condo remodels, the firm felt right at home in the floating home marina.
"We pride ourselves on executing remodels while being conscious of the ways our performance can affect our clients' standing with their neighbors," said Guinn.
The renovation of the floating home showcases the client's art collection and takes advantage of views afforded to him by his home's location on the Columbia River.  The remodel touched almost every interior surface, but left the home's floor plan intact, with the exception of the entryway.
"We moved the wall two feet over to transform the entryway into an art gallery," Fischer said.
The project team employed a simple palette of wide-planked birch flooring, glass, white walls and ceiling, and stone countertops to create a quiet but dramatic foil for surrounding views and the client's art collection.
While this floating home is far removed from the raft depicted in Twain's "Huckleberry Finn," the project certainly supports Huck's assertion, "You feel mighty free and easy and comfortable on raft."
More about remodels by Hammer & Hand can be found online at http://hammerandhand.com.
About Hammer & Hand
Hammer & Hand is a construction company dedicated to inciting evolution in building through service, science and craft. The firm collaborates with clients and architects to build the best of the Northwest, from new custom homes, to residential remodels, to commercial renovations.
Hammer & Hand Portland
1020 Southeast Harrison Street
Portland, OR 97214
http://hammerandhand.com
(503) 232-2447
Hammer & Hand Seattle (at The Bullitt Center)
1501 E Madison St, #250
Seattle, WA 98122
http://hammerandhand.com/seattle
(206) 397-0558